Whether you want to feel less cramped in your studio apartment or make a small room in your home feel larger, these tips can help you do it without spending a lot of money: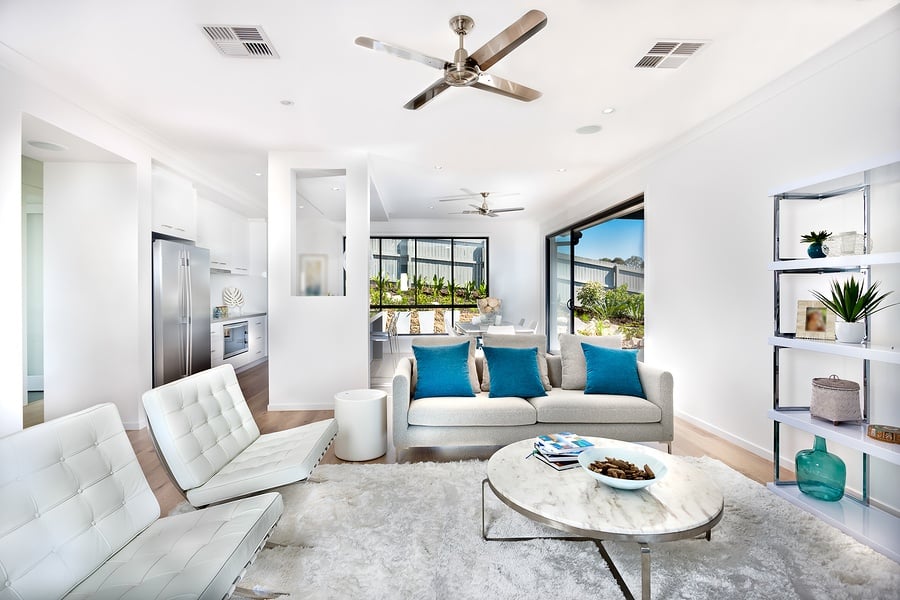 Styling Hacks to Make Your Small Space Look Bigger
Stick to a lighter color palette. Shades of white, light grays and pastels on the walls and ceiling help provide the illusion of a larger room by softening the hard boundaries of the space. Darker colors make a room feel heavy and closed in, so it's also important to go with light-colored furniture and decor to reinforce the airy feeling.
Avoid bulky furniture. Oversized furniture may be your first choice for comfort, but adding several of these larger pieces to a small area can make you feel claustrophobic. Instead, stick to pieces of furniture with longer, thinner legs and smaller widths. Light materials like glass are ideal for table tops, too.
Buy the right rug for the right look. Instead of looking for a more subdued rug, you should find one which just barely fits within the room. This avoids the mistake of visually breaking up a small space into even tinier sections. A rug is your chance to add pops of color and visual interest to your interior with an intricate design. This will help distract your eye from the dimensions of the room.
Utilize open shelving. Having enough storage is essential regardless of the size of your room. Large cabinets with lots of drawers and covered storage can help reduce clutter, and strategic placement will keep these storage spaces from dominating smaller areas. Try installing open shelving and using decorative baskets to help organize your belongings. Floating shelves are another good option to help maximize space.
Don't neglect your windows. Windows let in light and draw your eyes to the outdoors, making a confined space seem more spacious. The right window treatments can help frame the room and accentuate the décor.

Sheer fabrics

and more neutral colors make good choices for

window shades

in smaller areas.
For more tips on how to maximize the space and functionality of your home, check out these blog posts: