Even if you have a small bathroom, you can still transform it into a stylish space that maximizes functionality. In fact, with a little imagination you can turn even the smallest half-bathroom into one of the best areas of the house. So, regardless of where you live, here are a few pointers for masterfully designing a bathroom with limited space:
Use the Right Colors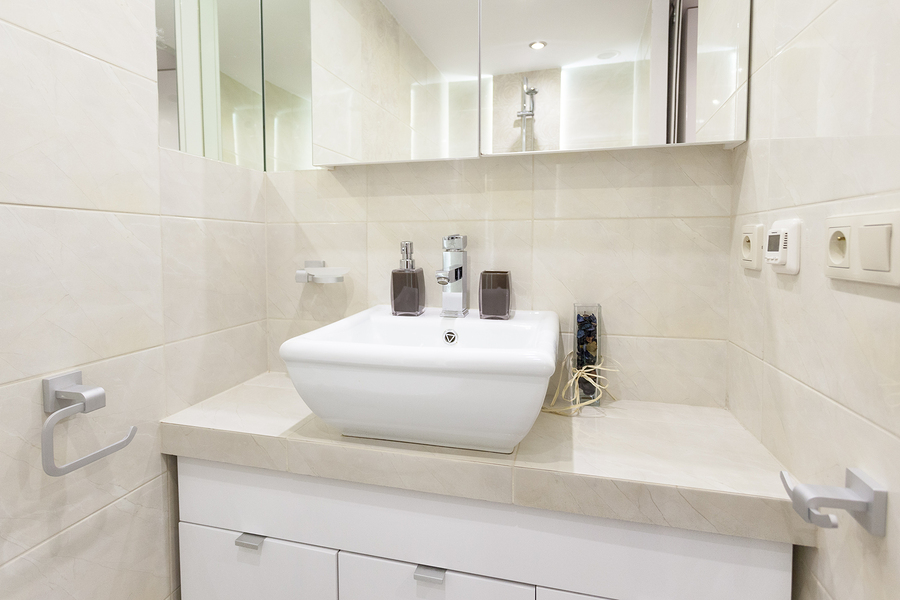 Light Color Palette
Dark colors make rooms feel smaller. If you're already tight on space, the dark colors will only make the bathroom feel more enclosed. Instead, opt for a light color palette. Using a white or cream as the main color in your bathroom will help open up the space, making it feel larger.
Rustic Vanity
A great way to add sophistication with a light color palette is to combine a rustic vanity with light colored fixtures. For example, using white marble on the floor and in the shower, and offsetting it with a wooden, rustic vanity still gives you the openness of the light color scheme, while the darker vanity adds sleekness and luxury. You can even consider a gray-tone wood, as this will match with the gray tones of the marble.
Maximize Space
Increased Storage

With a small bathroom, you'll want to combine storage and function whenever possible to save space. One way to do exactly that is to choose a vanity with storage space built into it. This is a great alternative to the pedestal sink, especially for half-bathrooms. Recessed wall cabinetry or wall nooks are other great ways to create storage areas without taking up additional space. Built-in storage helps reduce clutter in the bathroom.
Recessed Lighting
With so much emphasis on saving floor space, it's easy to forget about vertical space. Recessed lights eliminate the need for wall-mounted or ceiling fixtures. This frees up overhead space and makes the bathroom feel even more open. You can also install a dimmer to adjust the lighting exactly how you want it.
You don't need to have a giant bathroom to have a masterfully designed space. So, whether your bathroom is large or small, you can make it your own with these design tips. For more ideas and bathroom remodel advice from the experts, read these articles: