No matter what material your doors and windows are made of, proper care is key to maintain functionality and aesthetic. However, doors and windows require specific cleaning. Here are some things to keep in mind:
Points to Remember When Cleaning Doors and Windows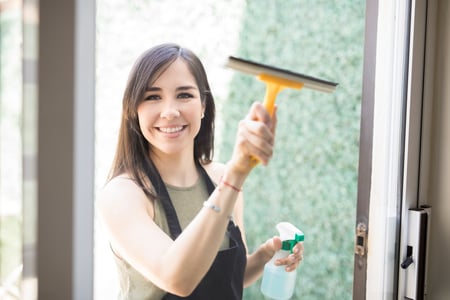 Begin With the Dusting
It's important to start by dusting, as any liquid cleaners you use afterward will create a muddy mess otherwise. For the most efficient cleaning, use a vacuum with a dusting attachment to remove all loose debris from the screens. Remember to be gentle so as not to damage them.
Be Generous With Cleaning Products
For your screens, the general rule of thumb is to use a 1/4 cup of liquid all-purpose cleaner mixed with a 1/2 gallon of hot water. Wash both sides from top to bottom. Don't be stingy with your supplies; apply the cleaner all over for a thorough wash.
Use Microfiber Cloths
Microfiber cloths are ideal for cleaning windows and doors due to their ability to grab tiny particles. They are also especially effective when drying window glass. Note – screens should be left to air dry after they've been thoroughly washed.
Clean Either First Thing in the Morning or After the Sun Goes Down
The best time to clean your doors, windows and screens is either in the morning or the evening when there isn't any direct sunlight. This helps prevent the cleaners you use from drying too quickly and leaving streaks and smears.
Clean and Lubricate the Tracks
Make sure you clean and lubricate the tracks. This will help keep your doors and windows operating smoothly. You can use the same microfiber cloth you used for your screens here. Be sure to dry the tracks completely after cleaning and then use Pledge to finish.
Check out these articles for more cleaning and home maintenance tips: