Outdoor furniture is usually built to last, but your furniture will last a lot longer if it's properly maintained. The question often comes down to how. There are specific ways to keep your metal, wicker and wood furniture looking its best. Follow these tips, so you can enjoy your outdoor furniture for even more seasons than you counted on:
How to Maintain Your Outdoor Furniture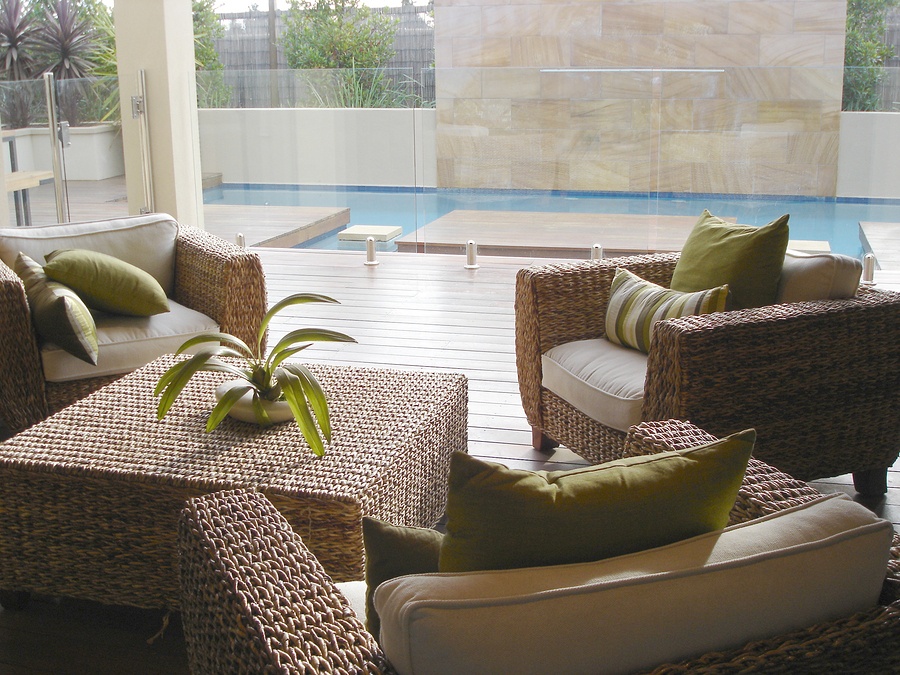 Metal
Clean surfaces with a soap-and-water solution.
Sand any rough or rusted spots with fine-grit sandpaper before touching them up with paint. Several thin layers will adhere better than one thick layer.
Buff the surfaces with car wax, so that water beads instead of soaking into the metal. This one step will do wonders to prevent corrosion.
Apply an outdoor furniture protector to surfaces to stifle the effect of heat and UV rays.
Lubricate moving parts – casters, glides, swivels and umbrella mechanisms – with a silicone spray.
Wicker
Vacuum wicker first with a brush attachment to remove loose dirt and other debris.
Clean surfaces with a soap-and-water solution, being sure to wipe them dry when you're done. When wicker gets damp, the fibers soften and stretch. For the above reason, keep wicker covered when you're not using it. Doing so will also prevent mildew from growing in the cracks and crevices.
Apply an outdoor furniture oil to wicker to fortify it against the elements.
Wood
Seal your wood furniture with paint, varnish or stain, otherwise, it will discolor and could even weaken to the point of collapse. Clean the furniture first with soap and water and a soft-bristle brush. Then, decide which type of protective element you prefer:
Paint will provide the greatest degree of protection. It will repel UV rays from the sun and will block moisture, which will prevent your furniture from rotting. If you want to experiment with new colors every year or two – or when the color begins to fade – paint is a great choice for outdoor furniture.
Unlike paint, varnish will allow you to preserve the beauty of the wood and the grain, while still allowing you to see through it. Varnish also repels sunlight and moisture, though a new coat or two will probably be needed every other year.
Like varnish, stain should allow you to see through to the wood and grain – but check to be sure; some wood stains can be nearly as thick as paint. Follow up with a wood sealer to prevent the wood from cracking, splitting or warping.
No matter what protective measures you take, your outdoor furniture will still come into contact with the sun, unless you install a retractable awning or exterior shade. These will provide the best protection against the sun and other outdoor elements, no matter which type of furniture you have. Contact us to schedule a free consultation today at 702-260-6110.