When working from home, it can be easy to get distracted. Here are some necessities every home office should have that will reduce distraction and increase focus:
Home Office Necessities to Increase Efficiency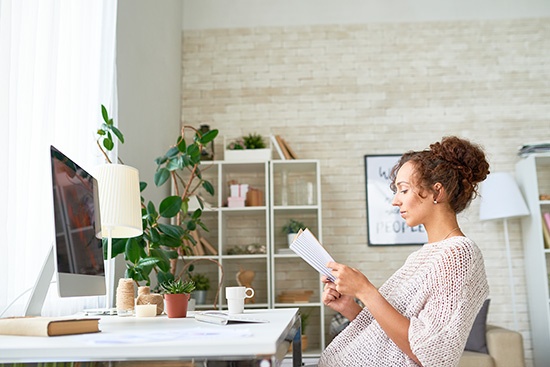 The Right Chair
There are two important elements you should consider when shopping for the right office chair: comfort and ergonomic design. These two characteristics go hand-in-hand because a comfortable chair that's not ergonomically correct could end up causing you long-term discomfort.
The following features are ideal in an office chair:
Adjustable seat, back and arms

Solid support that encourages proper posture

A swivel design, so you can easily reach items across your desk space

Rolling wheels that help eliminate unnecessary strain
Wireless Appliances
A wireless printer and scanner allow you to print or scan from multiple devices. With a wireless scanner, you can scan and save your files to the cloud for easy, on-the-go access. A wireless printer enables you to email files to your printer no matter where you are. These two devices keep you from being stranded at your desk all day and allow you to get work done from anywhere.
A Place for Everything
Eliminating clutter will facilitate greater focus. Invest in desktop organizers and a file cabinet for stray papers and files, and make sure any cords are hidden behind the desk. This will ensure you have a designated place for everything and keep your workspace free of debris, which will minimize distractions and allow for greater focus.
Lear more about home organization and how to create the ideal workspace by reading these blog posts: