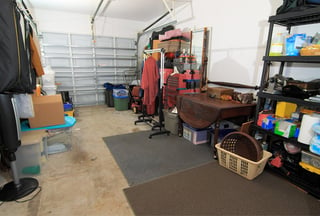 Accumulating stuff is just a part of daily living. However, there gets to be a point when you find your home is filled with too many things. Your drawers are crammed, closets won't close all the way, and that new book won't fit in your bookshelf. Do you have too much clutter? What should you do about it?
Tips for Understanding Your Clutter and Remedying It
You rarely need multiple versions of the same thing.

Do you have two sewing machines, or a new toaster oven still in the box waiting until your old one finally kicks the can? This type of doubling up is rarely necessary and always takes up space. Spend a couple hours going through all your small appliances, hobby equipment and similar items and consider separating the necessary from the unnecessary. Donate the extras and take back your space.

Consistently misplacing or losing items is often a sign of clutter.

When there are too many belongings in a household, it is often hard to follow an organizational system and things frequently get lost or misplaced. If this is an issue, decluttering might be your answer. Go through each room and empty every nook and cranny of excess, then create an

If you feel stressed about finding places for things, it's time to purge.

If you ever feel stressed about finding space to put items, you have too many things. Maybe you can't easily move about your closet or fit all of the shoes neatly in the mudroom. Whatever the case, going through and packing up those items you don't love or often use will go a long way to reduce your anxiety.
When You're Done, Sit Back and Relax in Your Freshly Reorganized Home
Once you've decluttered, take some time to relax in your newly cleaned and reorganized home. Need other tips on organizing your home? Check out these blogs: