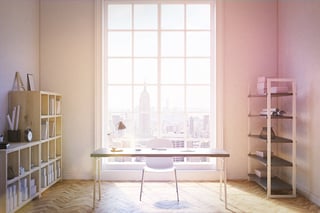 If better home organization is at the top of your New Year's resolution list, then one of the best ways to get started is by creating a family organization station. Commonly referred to as a family command center, this is a dedicated space where you can keep and pay bills from, sort and store important paperwork, post activity schedules and calendars, and leave notes for family members. A comprehensive system can help everyone feel more relaxed and in control of their daily activities.
Questions to Help You Successfully Create a Family Organization Station
Who will be utilizing the home organization the most?

Does your partner do the majority of bill organizing and paying? Do you have school-aged children that need a dedicated homework space? Think about what family members are most likely to use the family command center and use their preferred working set-ups to guide your design and implementation of the space.

What tasks will be occurring in the organization center?

Once you know who is most apt to use the command center, the next big question deals with the what. Sit down with your family and make a list of all the things you want to be completed in the space and what materials you need for those items to get accomplished. For example, if you want the space to be where family members pay bills and do homework, you'll need to equip it with a work surface, computer and storage containers.

Where in the house should the command center be?

In general, home command centers ought to be located in a highly visible and well-trafficked area of the home. Remember, this is not the same as a home office. Rather, it's a place that should serve as a physical reminder of things like bill paying and big school appointments. Having your child's homework space in a central area makes it easy to check up on them and assist where needed. Take a look around and keep in mind little nooks that can be carved into this dedicated space.

What are my lighting options?

Good lighting is essential for every work space. Make sure you have proper lighting options so family members can easily view important notes and work comfortably in the space. The perfect way to regulate the amount of natural light in your family organization station is by adding window shades that will let the right amount of light in, while keeping heat and UV glare out.
For more information about how our shade options can improve your family organization station, contact us at 877-260-6110 and schedule a free in-home consultation today.