The staircase is a functional element in a home that is often overlooked when it comes to interior design. But it doesn't take much to transform your staircase from mundane to an eye-catching accent piece in your home. Here are a few ideas to inspire you with ways you can highlight your staircase.
Ways to Make Your Staircase Stand Out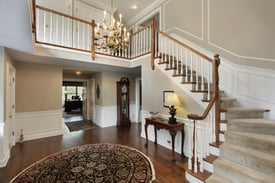 Unique Stair Runners
Stair runners are a great way to add a bit of style and comfort to a
wooden staircase. But there's no rule that says they must be neutral in color and appearance. Your stairs can be the perfect place to incorporate bold colors and prints. One fun option is to use a runn
er with an animal print. Not only will the print add some pizzazz to your space, a print is also great at hiding everyday wear and tear.
If you like the idea of a stair runner, but would prefer not to use carpet, you can recreate the feel with paint. Paint a section of each stair using painter's tape to create clean, straight lines. To make your painted runner visually pop, choose a color that will contrast against the color of the stairs, walls and railing.
Gradient Staircase
Another fun way to paint your stairs is using a gradient. A gradient refers to the gradual, smooth transition from one color to another. The colors in the gradient can transition between two distinct colors (blue and green), a variation of a single color (light purple to dark purple), or a complex shift of colors (a gradient spanning the entire rainbow). The shifting colors will take you on a progressive journey as you move from one floor to the next.
Decorative Posts and Handrail
The posts and handrail of your staircase are another practical feature that is easy to incorporate into your design. Everything from the color, size, shape, materials used, and more can affect how the railing adds to the overall design aesthetic. Pay special attention to the newel post. As the final post on the railing, this post doubles as an anchor. In other words, it tends to be larger and placed in a prominently visible location, making it the perfect focal point to draw attention to your staircase.
Creative Lighting Options
Good lighting is an important part of any design. When designing your staircase, there are several creative lighting options you can incorporate to make your stairs one of a kind. Chandeliers look beautiful when hung over a staircase. Or you could install interesting wall sconce lighting fixtures. LED lights running along each side of the stairs can create a unique glowing effect, while also illuminating every step you take.
Looking for ideas on other ways to punch up your home's decor? Check out these posts: