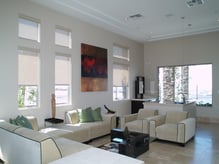 The living room is the focal point of many homes, where you have family time and entertain guests. With so much activity in this room and only so much space, furniture selection and placement, décor, and lighting all play a key role in the comfort and functionality of the space. If you're looking for ways to update your living room, look no further—we've put together some great tips to help ensure your remodel is a success.
Out with the Old
Clear the clutter and start fresh by ridding your home of mess such as stacks of outdated reading material or games no one plays. Once you've removed all unnecessary items, it will be easier to see your vision of a freshly remodeled living room.
Surround Yourself With Color
Brighten up your walls and ceiling with a fresh coat of paint. Choose a color that will compliment your favorite furniture pieces and adjacent rooms or paint the walls with a warm neutral so you can incorporate more color with accessories and fabrics.
Add Some Greenery
Plants can help bring a touch of the outdoors inside, while helping to clean your indoor air. Choose plants based on the amount of natural light provided by windows, patio doors or skylights.
Enhance the Lighting
For best results use a combination of the following:
Ambient lighting is the primary source of light, typically provided by ceiling fixtures which may be on a dimmer for greater flexibility and control.
Task lighting is used for a specific function such as reading, and is best provided by floor or table lamps.
Accent lighting draws attention to artwork or other beloved objects, using adjustable track or recessed fixtures, so that you may focus the beam of light directly on the desired subject.
Dress Your Windows
Safeguard your furniture, reduce energy usage, increase your privacy, and add beauty to your living room windows with interior window shades. Customize your shades by choosing from a wide selection of colors, patterns and fabrics to compliment your decor. Solar-blocking technologies help keep your home cool during the summer heat, and warm on winter evenings, while filtering out harmful UV rays that can cause your furnishings, flooring or artwork to fade.
Upgrade or Add Seating
New or reupholstered seating should be arranged to promote interaction and conversation. A comfortable chair in a contrasting fabric can liven up the room while providing extra seating when you have company.
Breathe new life into your home with our living room remodeling tips, including the addition of Polar Shades interior shades. Contact us today at 877-260-6110 for a free quote, and be sure to download our free guide, Shades vs Blinds, to determine which window treatments will work best in your home.