When decorating your kitchen, consider pairing gray with white for a contemporary or ultra-modern look. These colors are great for countertops, cabinets, walls, and floors. You can also combine the two in the kitchen island to get a bold statement right in the middle of your kitchen. Below are some tips on how to achieve a well-balanced gray-and-white kitchen.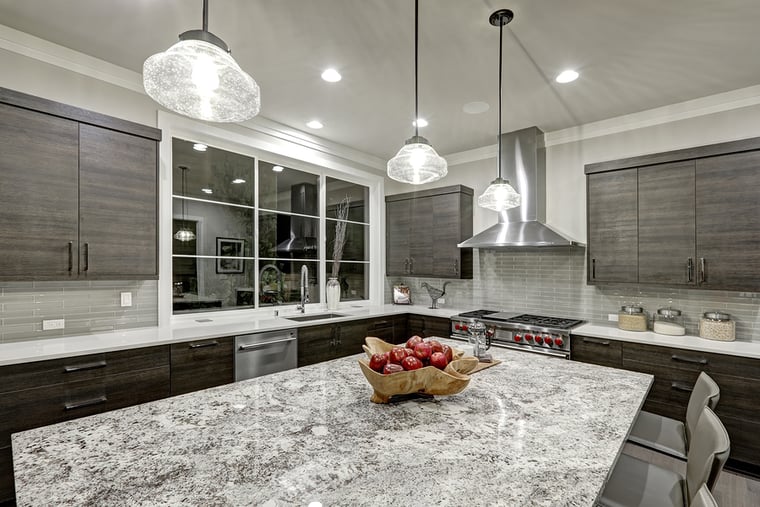 Gray and White Tones with Wood and Orange
If you want your kitchen to be brightly lit while also offering some warmth, then this style is the best choice. The design includes white cabinets and countertops and a splashboard made of gray picket tiles with white grout. Complement these colors with a stainless sink and appliances and wooden beams and shelves. You can also incorporate a black painted island with camel colored stools to offset it. To further add warmth to your kitchen, consider exposing a load-bearing beam.
Black Paired with Gray, White and Brass Accents
This design is best when you have a taste for a modern style and a detailed eye for architecture. In this design, the wall and ceiling are painted white, the countertop is golden slab and a mosaic splashboard. The style is complemented with a matte black island, ebony stained beams and brass hardware, faucets, lighting fixtures, and stools. The gray used in cabinets is meant to add dynamics to your kitchen when matched with the black color of the island.
Pure White and Gray
For a sleek look with minimal color, opt for only white and gray. In this style, you can have your walls painted with dark gray-blue color and the island countertop of gray-blue quartz. The perimeter counter is further designed with white quartz color that has gray veining. The backsplash is made with matte gray ceramic tiles. To add sophistication, consider using glass on the cabinet fronts.
Depending on how you blend gray and white, you can create a modern, industrial look or a warm and welcoming style. The secret is knowing how to tie these two colors in with the cabinets, countertops and other hardware. For more kitchen remodel tips and ideas, read the following blog posts: