Living room décor should be eye-catching, inviting and functional all at once. It may seem tricky to find the right pieces or add your unique style without going overboard, but following these tips will eliminate the guess work and help you find the perfect decor for your home:
1. Mix Contrasting Colors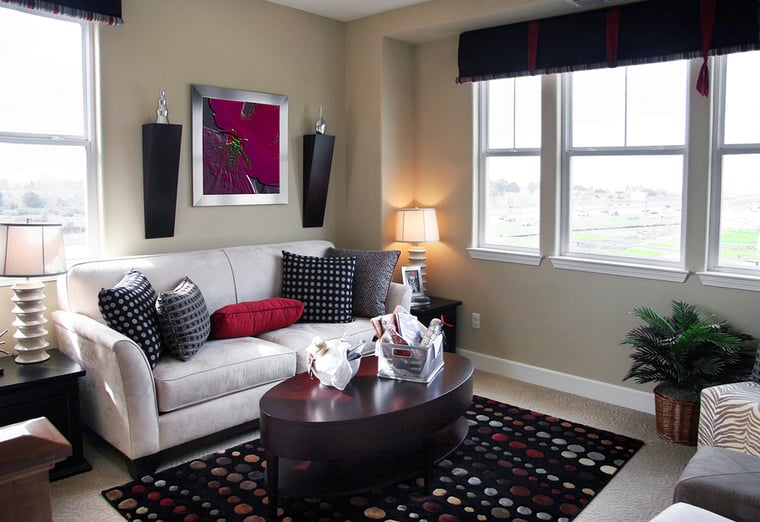 Mixing a combination of contrasting colors adds depth to the room. This makes your living room feel warm and inviting, while still giving you a chance to show off your personality. Black and white are popular contrasting colors found in many homes. White adds a crisp, clean feel to the room, while black brings an element of luxury and sleekness.
2. Adopt a "Less Is More" Mentality
When selecting accent pieces, like wall art, decorative shelving items and tabletop accessories, it's important to remember that less is more. The same concept applies to loud patterns, like polka dots, chevron and plaid. All these items add a unique touch, but they can look cluttered and messy if overdone.
3. Utilize a Variety of Textures
Don't feel like all the textures in your living room have to match. Incorporating different types is an effective way to add visual interest while maintaining a comfortable, inviting atmosphere. An easy way to add multiple textures to your living room is to select different styles of furniture that complement one another, rather than sticking with a matching set. If you prefer or already have a matching living room suite, integrate multiple textures by adding an assortment of throw pillows in various shapes and sizes.
4. Stick with Practical Fabrics
You want your expertly decorated living room to be also be a functional space that your family can use. It's vital to stick with practical fabrics that work for your lifestyle. If you know that spills and drips are going to occur on your couch, look for material that's easy to clean, such as microfiber or leather. Search for throw pillows that have machine washable covers, and make sure that your rug is made of material that you can easily clean with a steam cleaner.
Keeping these factors in mind will help you choose pieces for your living room that are inviting, stylish and functional. Get more interior design inspiration and pro tips here: