Choosing the perfect coffee table decor can help you transform your table from into a gorgeous accent piece. Here are some tips to help you select the perfect pieces:
Follow the Rule of Three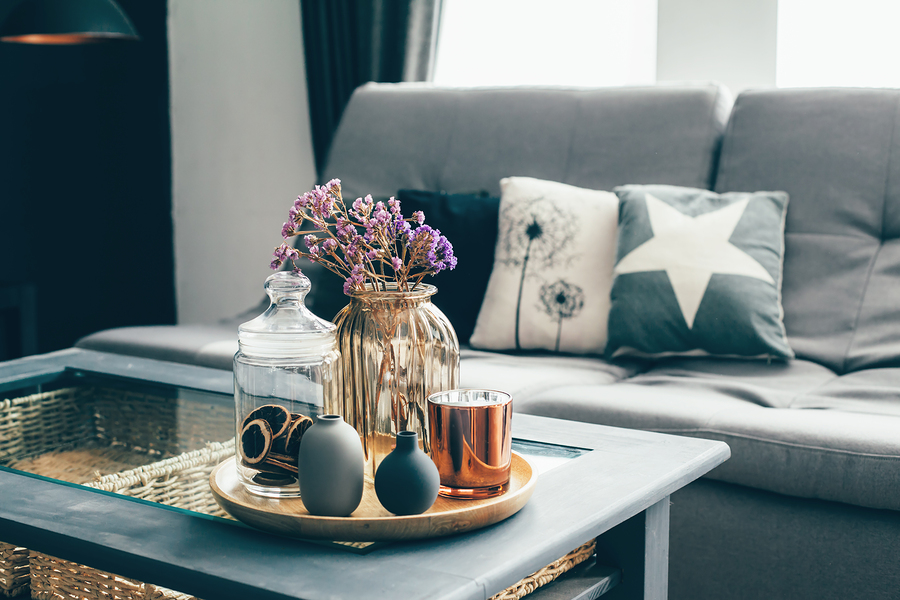 The "rule of three" is standard for many interior decorators, but it's really more of a suggestion than a rule. You can play with the idea of grouping decorative items in threes, so use your imagination.
For example, larger coffee tables can look great with items clustered together in three distinct spaces. You could also mix a vase filled with flowers, a decorative dish, and a pair of candlesticks, counting the candlesticks as one item. There's really no wrong way to do this, so just experiment and follow your instincts.
Mix and Match
You can continue using the rule of three by mixing and matching items of different sizes and shapes. Try using three sets of books or other large, flat items, like trays, as a base for your decorative items. This gives your decor a more dynamics and visual appeal. Another idea is to play with decor of different heights. To maintain a symmetry that's pleasing to the eye, make sure the tallest items are in the center.
Play with Shapes
While rectangular symmetry brings a sense of order, it can get boring if you overdo it. Offset your square pieces by incorporating curved items, like a large three-wick candle or a round vase. This will add visual interest by breaking up the straight lines. When decorating a glass tabletop, you can also add an area rug below to further incorporate colors, shapes and texture.
Use Flowers and Candles
Flowers and candles are a staple in interior design, for good reason. Fresh-cut or high-quality silk flowers are an easy way to bring in a cheerful pop of color, while candles allow you to incorporate various shapes. Real flowers and scented candles also bring the added benefits of aromatherapy. Try changing them out according to the season, so your space always feels fresh and vibrant.
Add a Splash of Green
Placing a small houseplant on your coffee table can make your space feel homier and more inviting. Use an eye-catching planter to hold a leafy plant, succulents or an exotic cactus. Pair this with a square book and a round, decorative paperweight for a perfectly simple, classic look.
For more tips on how to update your home with some new, spring style, take a look at these trending posts: