In-home bars have become increasingly popular over the past few years. The designs have also become more creative. If you're planning on installing a bar in your home or renovating the one you already have, here are the top three design trends you might want to incorporate into the space:
Top 3 Home Bar Design Trends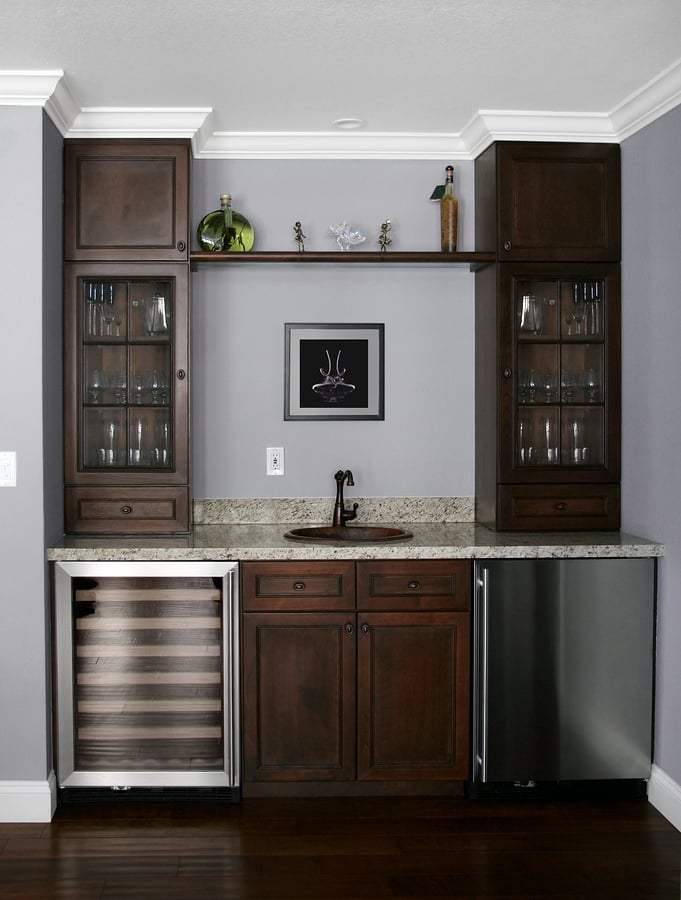 1. Bold Walls
Many in-home bars feature walls that are different from what is in the rest of the house. A bold wall helps separate the space for the other areas of your home. You can create this wall by adding eye-catching patterns with tile, texture with brick or wood, or vibrant color with paint.
2. The Perfect Shelves
Your in-home bar needs shelving to store and display your glassware and ingredients. Picking the right shelving can help enhance the look of the bar. Thick, wooden shelves give a rustic, natural look, whereas the shine of metal shelves makes them a distinct focal point. Brass shelving is particularly popular right now.
For a sleeker and more modern look, clear glass shelves are a good option. However, you have children, it may be wise to consider enclosed shelving.
3. Proper Lighting
Lighting sets the mood and creates ambiance. Hanging light fixtures are a popular choice because they work well as statement pieces. You may even be able to find a unique, vintage option that you love.
Backlighting is another popular choice. This could include backlit lighting fixtures mounted on the wall or even illuminating the shelves. Backlighting is a great way to give a warm but subtle glow to the space. No matter what lighting option you choose, consider selecting fixtures that can be dimmed. This will allow you to adjust the light to perfectly match the mood.
Another way you can customize the light in any area of your home is with interior window shades. These shades allow you to enjoy natural light, while reducing glare and diffusing damaging UV rays. This preserves your furniture and décor while also reducing heat and, in turn, lowering your power bill.
Polar Shades's window shades come in a variety of fabrics, colors, textures, and styles to beautifully complement your home's aesthetic. To learn more about interior window shades, stop by our showroom to see our products for yourself, or contact us at 702-260-6110 to set up a free, in-home consultation today.