Figuring out how to divide a large space into smaller, more functional spaces, it can be tricky to do so without making the area feel closed off or separate from the rest of the room. These stylish decorating ideas will help you section off a room while still giving it an open, cohesive look:
Color-coordinate each section. Choose a color palette comprised complementary colors. Then, select which one you want to be the dominant color in each area. The result will look coordinated and each area will be distinctly defined.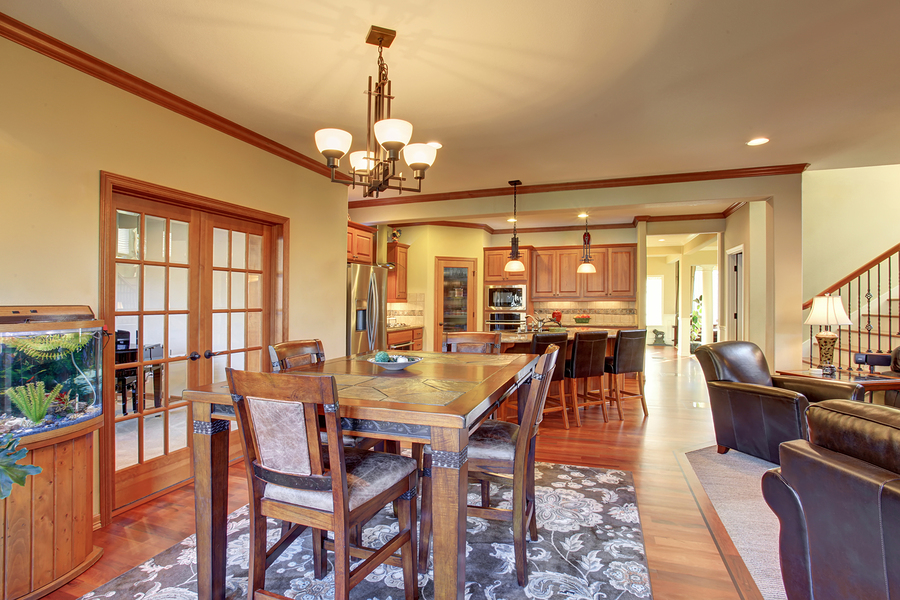 Choose a different rug for each section. Rugs create natural boundaries, especially from a distance. Color coordination is key here too, so it is best to buy all rugs at the same time. Depending on how large your room is, solid-colored rugs might be the better choice, as they will result in a sharper, more streamlined look.
Hang pendant lights in each section. Thin and graceful, a grouping of three pendant lights can define each area and save floor space. Choose three different pendant styles from the same manufacturer, for a total of nine lights. Then, hang one of each light over each area to create visual symmetry – a look that will be balanced and playful at the same time.
Consider shelving on the perimeter of each area. The trick is finding the right shelves – ones with large enough gaps to see through from a distance and also big enough to display objects of art as well as books. "Artistic bookshelves" have largely replaced curtains and screens as room dividers, mostly because they're more functional. Remember, tall bookshelves that stretch to the ceiling will make your room look bigger.
By implementing these ideas, you'll be able to divide your room into smaller sections that work together to enhance the overall aesthetic appeal of the space. For more creative tips on how to decorate your home, give these articles a read: