Summer may be winding down, but there's still plenty of time to enjoy relaxing outdoors. If you've been dreaming of spending your days chatting with friends or sipping a beverage while swinging on your front porch, now is the perfect time to make that happen.
You may be surprised to learn there are many different ways to hang a porch swing, and, with a bit of creativity, you can make just about any space work. Take a look at these interesting ideas!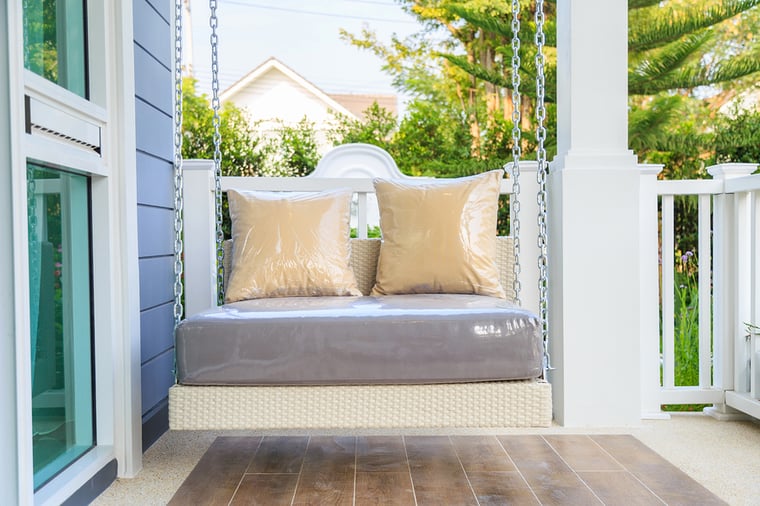 Focus on Comfort
The only thing better than a well-placed porch swing is one that's designed for ultimate comfort. Start with a screened-in porch to keep the bugs out. Then, add a comfortable cushion to your swing and decorate with beautiful throw pillows. You can change the pillows out to give your porch a whole new look every season.
Give the space a final touch by installing retractable awnings. They can span up to 40' and project as far as 14' 6". In addition, their premium manufacturing provides superior performance and requires minimal maintenance.
Create an Outdoor Sleeping Space
Create an outdoor sleeping space by installing a deep, comfortable porch swing or a hanging bed. Then, close off the space by installing exterior shades. The ZipRite Shade allows you to easily enjoy your outdoor space during the day or night by converting it into a completely enclosed space for greater comfort and privacy.
Move Beyond the Porch
Don't have enough room on your porch or prefer to take advantage of your backyard space? Think outside the box, and hang a swing from a flower-covered arbor placed in the backyard.
You can also install a pergola in the yard, and hang a swing from it. Complete the look by adding matching armchairs across from the swing.
Add a Poolside Swing
Make your pool even more inviting by hanging a minimalist swing near the edge. This will allow you to look out over the water while also enjoying the view beyond. Not only will it create the ultimate relaxing experience, but it will also give your home a unique, one-of-a-kind look.
Focus on Your Lighting
Adding the right lighting to your space can make a major difference. Hang some rustic string lights around your porch swing and place some larger freestanding lanterns strategically around the area. This will help you create a cozy, inviting space that's perfect for relaxing any time of the day or night.
Do you need more inspiration for your outdoor space? Check out these tips from the pros:
To learn more about exterior and interior window shades, contact Polar Shades at 702-260-6110 to schedule a free, in-home consultation.