Large trees can be great sources of shade for backyards. But what do you do when you have a small yard? Certain trees may take up too much space, so you have to be strategic. Here are a few creative ways to provide shade in a small backyard: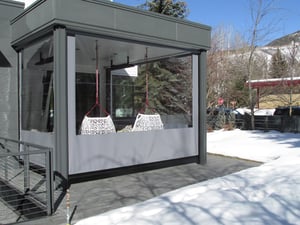 Create an Outdoor Room
Turn your patio into an outdoor room with ZipRite shades. These shades zip all the way to the ground, not only blocking the sun and UV rays, but also keeping out bugs and debris. This keeps your patio cool in the summer and allows you to enjoy your yard no matter the weather
Layered Plants
If you prefer to not plant a tree, layering plants of different heights is a great way to add shade while saving space. Select a variety of large-leaved plants that are tall, mid and ground level. Plant them together to create a shady spot in your yard that is also eye-catching.
Use the Shade You Have
Your yard's fence or wall also provides shade at certain points in the day. Place a bench in the area that gets the most shade, and supplement it by planting tall bushes along the edges of your fence.
Install an Awning
Retractable awnings can be mounted on virtually any outdoor space to provide shade whenever you need it. They range from 5' to 40' in width and span as far as 14' 6" out. With multiple designs to choose from, retractable awnings are a beautiful addition to your exterior aesthetic.
Polar Shades exterior shades are made from the highest quality materials and are manufactured in the U.S. We also offer interior shades, drapery tracks and retractable screen doors. For more information or to schedule a free, in-home consultation, contact us at 702-260-6110 today!