A powder room differs from a conventional bathroom in that it only contains a sink and toilet. When designing a powder room, it's important to know a few key measurements about the space. Not only will having these measurements assist with the design process, but it will help ensure that the proper amount of materials is ordered for the project.
Important Measurements for Designing a Powder Room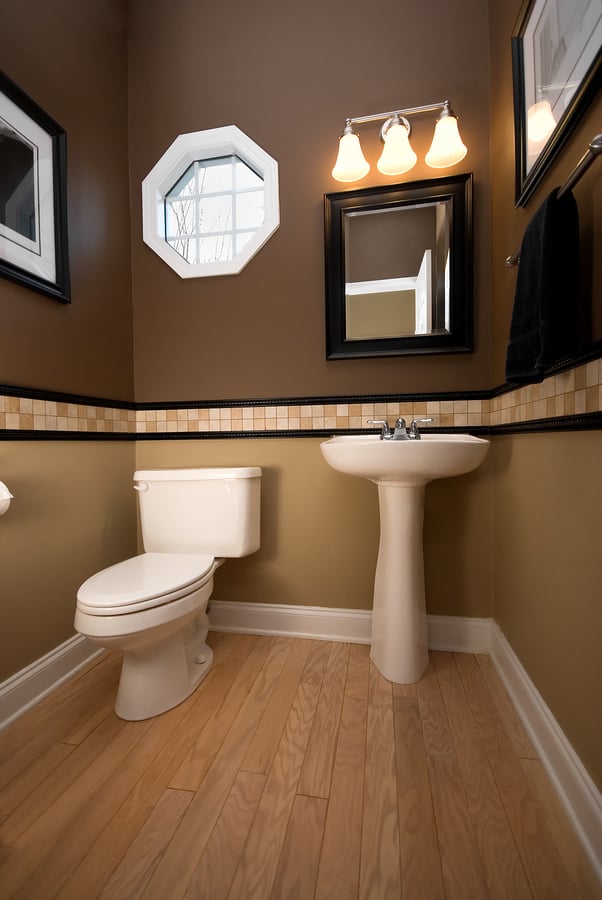 1. The Length and Width of the Floor
To calculate how much flooring your need for your powder room, you must know the room's square footage. Obtain the square footage by multiplying the length by the width. The measurements of the floor are also necessary when deciding where you want to place your toilet, vanity and any other bathroom furnishings. Your local building code requires that toilets have a specific amount of clearance space. It's vital to know how much space you have to work with to make sure you adhere to codes and select a vanity appropriately-sized for the room.
2. The Width and Height of the Doorway

Another detail to consider is how large you want the door to your powder room to be. You'll need this measurement to order and place the door and to assist with deciding where you want to place the vanity and toilet. You should also decide if you want the room to be handicap accessible. If so, you'll need to create a doorway large enough to accommodate a wheelchair. Handicap accessible doorways should provide at least 32 inches of clearance.
3. The Measurements of the Walls
When deciding what size vanity or storage furnishings you want for your powder room, you'll use the square footage of your floors in conjunction with the measurements of your walls to decide what sized items you want for the space. The measurements of your walls are important to make sure that everything you want will comfortably fit in the room.
Remember, you need to meet any clearance requirements dictated by your local building code. You also don't want items to be too close together for aesthetic and functionality reasons. Items that are too large for the space will make your powder room feel small and cramped.
The measurements for your walls are also needed to order paint, wall paper, mirrors, and other wall decorations for the room.
Want more interior design tips? Check out these related articles: