Working with a designer is a great way to ensure your home has incredible style, smart function and a customized feel. It's important to have a detailed idea of how you want your home to look, in order for your designer to fully bring your vision to life. There are 6 important questions you should ask yourself before consulting with a designer.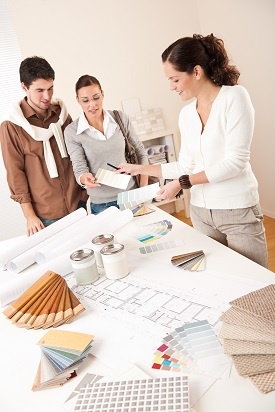 6 Factors to Consider Before Meeting with a Designer
1. What will the space be used for?
The function of each room is the most important piece of information you can give your designer. While the main function may be obvious, many rooms serve more than one purpose. Think about how you want to use a room so the design incorporates the the functionality.
2. What feeling are you looking for?
Are you looking for a calming retreat to come home to at the end of the day? Do you want a bright space that lifts your mood every time you walk in? It is important for your designer to know this in order for them to successfully create a cohesive style and design.
3. How much style freedom are you willing to give?
A great designer will be able to take your ideas and build a design plan that incorporates them while adding style and smart details. You might have a photo of what you'd like the space to look like, or you might want to give a general idea and let the designer run with it. Think about how much input you'd like to have before talking with your designer.
4. What do you like about the current space?
If there are quirks and charming details that make you love the room, share those with your designer. Decide if there's anything that you absolutely do not want to change and ask about incorporating your favorite room features into the final design.
5. What would you like to see changed?
While you're thinking about what you love about each room, you should also consider what you don't like. From the flooring to the paint color, think about the details that you absolutely want to change. Be sure your designer knows those points are a priority for you.
6. What personal touches are important?
Are there any personal touches you'd like to include? It might be your favorite color, an item you'd like to build the theme around or a preference of window shades over curtains. Your designer can incorporate your personal style into their plans to give you the personalized space you're looking for.
To learn more about interior design and tips for achieving a cohesive style, here are some helpful blog posts to read: