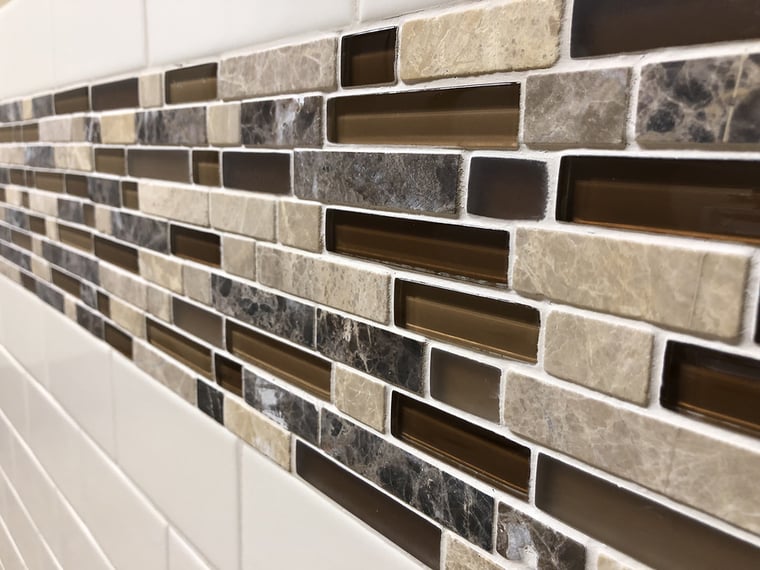 Adding some new tile is a great way to bring some life back into your home decor. If you've been thinking about re-tiling your bathroom or adding a new kitchen backsplash, check out these hot new trends!
3 Most Popular Tile Trends Popping Up at Home Shows This Year
1. Patterns & Shapes
Floral and geometric patterns are all the rage right now. We're seeing this both in the shape of tiles and the patterns on them. Expect to see cubes, hexagons and polygons showing up in all different types of interior tiles. When used in a large format, these shapes can even create an optical illusion that gives the wall a 3-dimensional effect. Smaller 3 x 3 mosaic tiles with a variety of floral patterns can also create a beautiful look that works incredibly well for kitchen backsplashes or accent walls.
2. Natural Elements
Faux-stone and faux-wood porcelain tiles are also becoming extremely popular thanks to recent improvements in their quality. They can now create an incredibly realistic look that offers a lot of design flexibility. One trend we love is porcelain tile that looks exactly like marble when it's installed. This offers an opulent look at a lower cost, and the easier maintenance is a big part of what makes porcelain so popular. Crackle-textured tiles also create a distinctive wood look that works incredibly well for indoor-outdoor areas like sunrooms and atriums.
3. All Things Blue
From denim to navy and sky blue to teal, you can't go wrong with blue tile this year. Want to make a splash? Consider classic blue tile backsplash in your kitchen. This is Pantone's Color of the Year for 2020 and it makes just as beautiful an accent color as a primary one. If this bright color seems like too much for you, consider a white tile with a beautiful baby blue pattern, which is great when used for kitchen or powder room floors.
Looking for more design inspiration? Check out these tips from our pros: