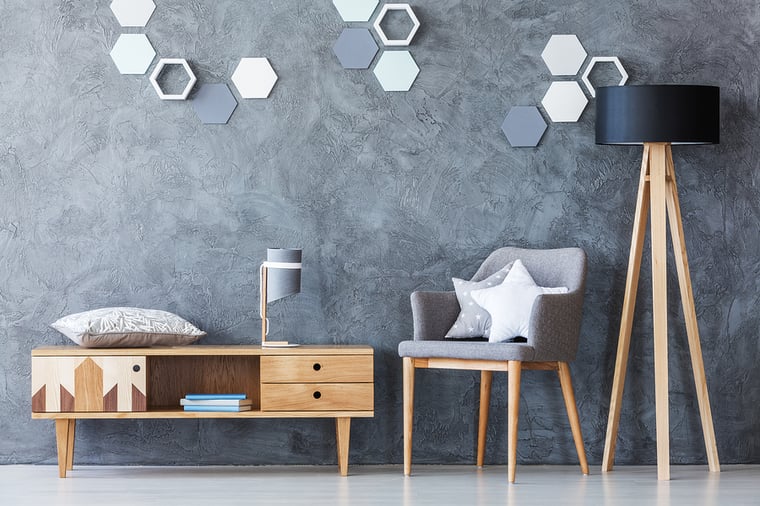 Bathroom trends are constantly changing, but geometric shapes are a classic look that won't go out of style anytime soon. The hexagon (six-sided polygon) is a modern twist on this trend that's sure to bring visual interest into your bathroom or powder room. Not sure how to incorporate this shape? Check out these eight ideas for inspiration:
Marble & Wood
Hexagon-shaped marble tiles create a clean, modern look, particularly when used to create an accent wall. Try putting in a vanity wall above the sink using light gray marble tiles. Add a floating wood vanity to create a feeling of warmth and add an organic touch.
Sleek Neutrals
High-gloss white ceramic hexagonal tiles create a sleek, neutral look that's perfect for a modern powder room. Pair this with a white and chrome vanity and chrome accessories.
High Contrast
Navy blue or black hexagonal tiles create a uniform look that is perfect for creating a high-contrast look. Pair this with an all-white pedestal sink to give the room the "pop" you're looking for. Add a navy (or black) and white patterned accent wall to make the room even more interesting.
Mosaic
Choose beautifully patterned hexagonal tiles to create a mosaic wall that will serve as the focal point of your bathroom or powder room. We love the idea of using tiles patterned with powder blue, gray, and black and accenting it with powder-blue wall sconces. This will help pull the room together while also bringing out the blue in the tiles.
Blue and Brass
Classic blue was named Pantone's Color of the Year, and with good reason. This is a versatile color that pairs well with almost any other. Try using white, gray and classic blue hexagonal tiles and pairing them with a classic blue vanity. Add brass cabinet pulls, lights and fixtures to give the room a clean, coastal look.
Abstract
Feeling adventurous? Try adding hexagonal tile only to the bottom half of your wall, setting it in an abstract pattern. This is sure to draw the attention of your guests and create a very unique and trendy look. Pair it with a stylish pendant light to pull the room together.
Wallpaper
You don't have to use tile to incorporate the hexagonal trend into your bathroom. Try using a hexagon-printed wallpaper to either decorate the entire room or just one wall. This can create a stunning look, particularly when the pattern uses a sky blue and bronze combination. Pair this with a simple slate-gray vanity, brass bowl sink and hexagonal mirror.
Mirrors
Speaking of mirrors, this is another way for you to embrace this trend without updating your walls at all. Add a six-sided mirror with a silver or brass frame to create a visual centerpiece in just a couple of minutes.
As you can see, there are many different possibilities for embracing this modern and sophisticated look. To complement your hexagon designs, consider installing window shades in the same color. Aside from their stylish aesthetics, interior shades protect your furnishings by blocking UV rays, so your interior designs stay fresh and vibrant for many years. To schedule a free consultation, contact us at 702-260-6110 today.