When it comes time to design a new home office, knowing the physical limitations of the space you're working with is critical. By starting with a firm idea of how much space you'll need, you can be certain that everything will fit comfortably and usefully.
Desk and Chair
Most home offices will be centered around a desk, so that's where you should start. Desks are usually between 4 and 6 feet wide, 2 to 3 feet deep, and 2.5 feet tall, but space requirements can vary with positioning:
A free standing or "floating" desk away from the wall will require at least 30 inches of clearance on each side of the desk to allow for comfortable seating and movement of your chair
A desk positioned against a wall will require the same dimensions for the desk and chair but require no clearance on the far side.
A built-in desk is part of the room structure and will have dimensions wholly unique to your design.
You'll also need to consider space for your desk chair. If it needs to be mobile behind your desk, you'll want close to 3 or 4 square feet.
Computer and Equipment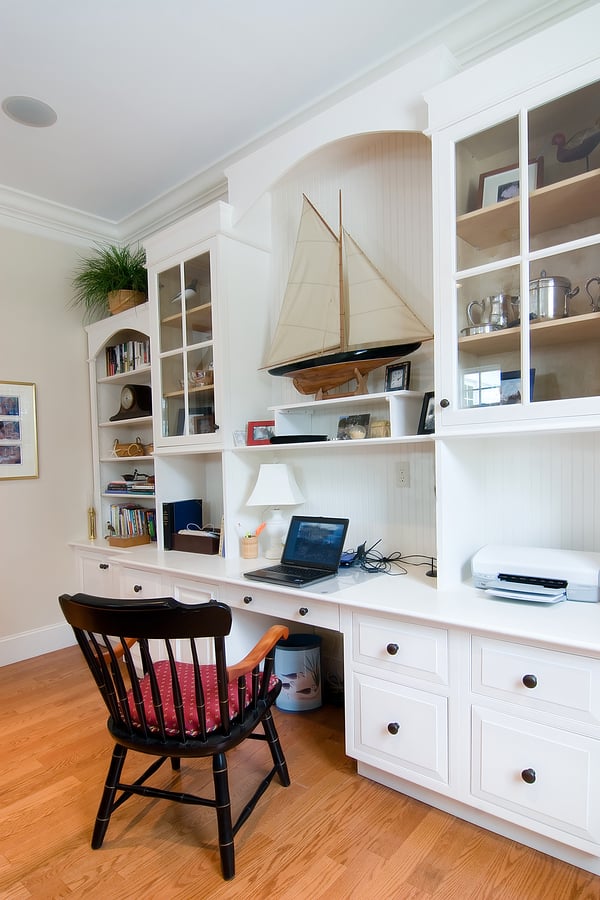 Most modern home offices will also require space for computers and other technology. Because computer dimensions vary significantly, it's important to plan for the future and leave plenty of room for changes to your monitor size and tower size. You'll also want to consider space for your keyboard and ensure it's at an appropriate height—about 24 inches high, if you're sitting in a standard office chair.
Other equipment, such as printers, scanners, paper shredders, etc., should each be estimated at roughly 2 square feet of space consumed. They may be a little bigger or a little smaller, but the vast majority will fit comfortably in these dimensions.
Storage
Your physical storage needs can add up to a huge amount of home office floor space, so make sure you've accounted properly for filing cabinets, shelves and similar space.
A standard filing cabinet is a little over a foot wide and about two and a half feet tall and deep; legal filing cabinets are a bit wider but fit the same dimensions otherwise. Other types of cabinets occupy similar total space, but may move the dimensions around, i.e. lateral cabinets, which are wide instead of tall. More specialized storage, such as custom shelving or storage, should also be planned for accordingly.
Windows
No home office is complete without window shades to eliminate glare. The experts at Polar Shades can create shades to fit your windows and complement the aesthetic of your office in both style and color. When you schedule a free, in-home consultation, a technician will take the measurements of your windows and discuss the best options to suit your needs.
Thorough planning will ensure your home office comes together beautifully and that the process is smooth. Need help determining the measurements of other areas in your home? Read here: