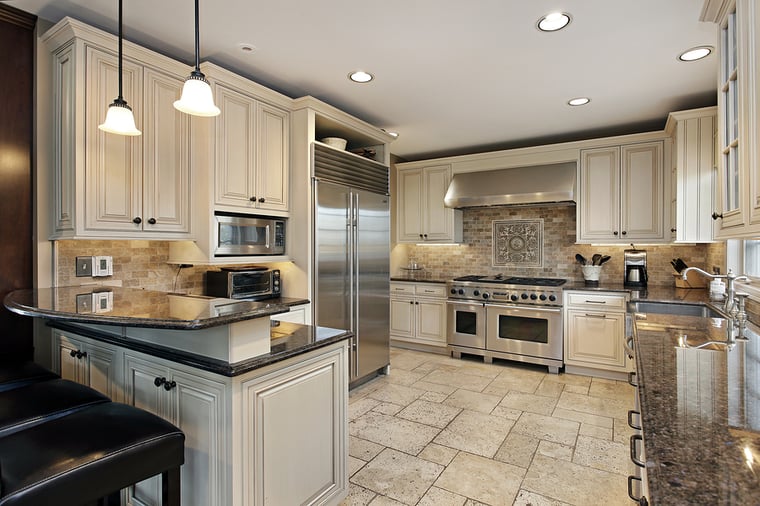 Kitchen cabinets can make or break the look of your space. If your cabinets are outdated, now is a great time to make a change. Before you do, however, you'll want to make sure you're up-to-date on all the latest cabinet design trends.
While some classics, like flat-front and shaker styles, continue to dominate, there are also many new and exciting options to consider. Here's what you need to know:
White Still Dominates
White cabinets have been on-trend for a long time and this look isn't going anywhere anytime soon. Homeowners love neutral cabinets because it gives them the ability to get creative in other areas of the kitchen. For example, an all-white kitchen with a brightly colored island creates a focal point that really makes the room pop.
Wood Comes in a Close Second
While cabinet makers say white is, by far, their best-selling color, wood and faux wood cabinets come in a close second. These had fallen off trend for a time, but they're back in a big way. Expect to see a wide variety of options from pale ash to rich, dark walnut.
Dark Cabinets Are Trending
Dark, dramatic cabinets are all the rage in 2020. Many new kitchen designs feature black walls, cabinets and surfaces. If black seems like too much to you, consider a dark slate gray with bits of white veining. This looks beautiful when offset by light-colored wood.
Look for Handleless Options
Contemporary kitchen design focuses on the ability to multitask, free flow of movement and a healthy dose of minimalism. To accommodate this, new cabinet designs forego traditional handles in favor of push-open cupboards. This creates a simple, streamlined look and added convenience.
Not quite ready to give up your handles yet? Consider a cabinet design that uses recessed handles. This creates the same sleek look and gives you the option to use contrasting colors, which can make your cabinets even more interesting.
Choose Blue or Green for a Pop of Color
Painted cabinets have also been a trend for some time. This year, blue and green are the colors of choice. Since there are so many different shades that work well in kitchens, homeowners have a wide variety of options. Choose anything from a classic blue to a dark navy or even a bright teal. Dark forest green, light mint or a muted shade of green are all excellent options as well.
Get Creative with Metallics and Stone
While most homeowners will choose white, wood or painted cabinets, those aren't your only choices. If you're ready to think outside the box and get creative with your cabinets, you'll love the new designs that feature materials like metallics, concrete and stone. Look for kitchen cabinets made of stainless steel, brushed steel, or even a laminate with a brushed steel look. Laminate that recreates the look of natural stone is another popular, new choice.
Frameless Cabinets Steal the Show
While traditional American cabinets are made with a frame that is used to attach the door to the cabinet, the latest kitchen designs are using European-style frameless cabinets. This style attaches the door to the inside of the cabinet, giving homeowners greater access to the interior. These have been popping up at home shows recently, so you can expect to see more coming on the market in the near future.
No matter what color you choose for your cabinets, Polar Shades offers window shades to match or beautifully contrast them for an elevated aesthetic. Contact us at 702-260-6110 to learn more about our versatile options and schedule a free, in-home consultation, or stop by our showroom today.