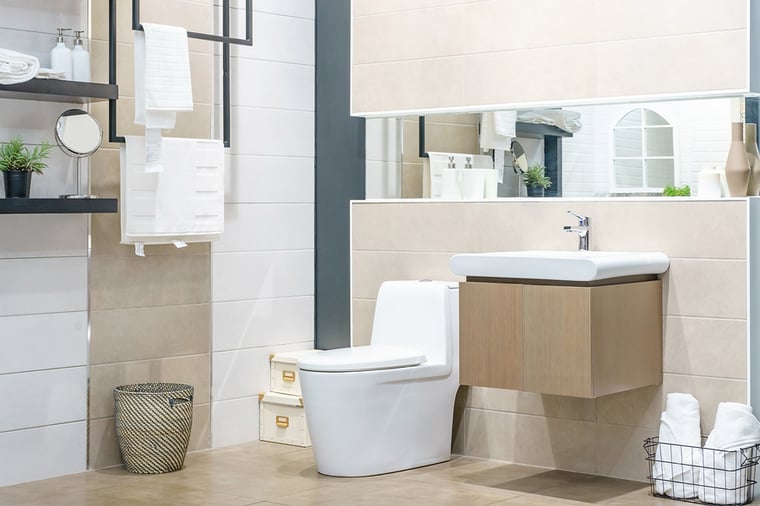 Many homeowners desire a large bathroom. In fact, it's a primary selling point for most homes. If you want your bathroom to be bigger, how can you enlarge it without a complete remodel? These strategies will give your bathroom a larger look by employing some clever visual tricks:
Choose a Lighter Color Palette
Keeping the walls and ceiling, tiling and flooring in the same color family gives a room a larger appearance. Lighter colors reflect light and give the bathroom feel airier and more open. Soft grays, warm beige and light blues are great choices. Tie in natural-colored patterns to add dimension.
Install a Floating Vanity
Even small bathrooms need a good balance of storage and space. Floating vanities give you plenty of room to store daily essentials, but the space underneath them makes for a roomier appearance.
Add a Large Mirror
Paired with a floating vanity, a large mirror can make a bathroom feel like a grand retreat, visually doubling the space. To increase the visual illusion, try adding a wood or tile trim and some overhead lights.
Widen a Narrow Bathroom
Trick the eye into thinking a long, narrow room is wider by visually pushing the walls apart. If you have square floor tiles, rotate them so that they are diagonal – the corners should face the walls instead of the sides being aligned with the walls.
Interior and Exterior Shades to Control Natural Light
A good mix of lighting is key to making any space look bright and open. In addition to ceiling lights, sconces, pendants, and other artificial lighting fixtures, use interior shades to allow the natural light into the room while also maintaining your privacy. Using light-filtering technology, our shades are designed to give you the desired amount of light at any time of day. Motorized configurations are ideal for bathrooms, as they can be programmed to open and close at different times of day and night.
With a change of color and a little bit of visual magic, any small bathroom can be transformed into a welcoming retreat. To learn how to incorporate interior shades into your home design, contact us at 702-260-6110 to schedule a free in-home consultation.