Bathroom mirrors can be a striking focal point that show off your design personality. You can have a lot of fun mixing and matching styles, shapes and sizes. Bold statement, refined sophistication or somewhere in between, today's bathroom vanity and mirror combinations let you create a customized look that is stylish and eye-catching.
Common Vanity and Mirror Combos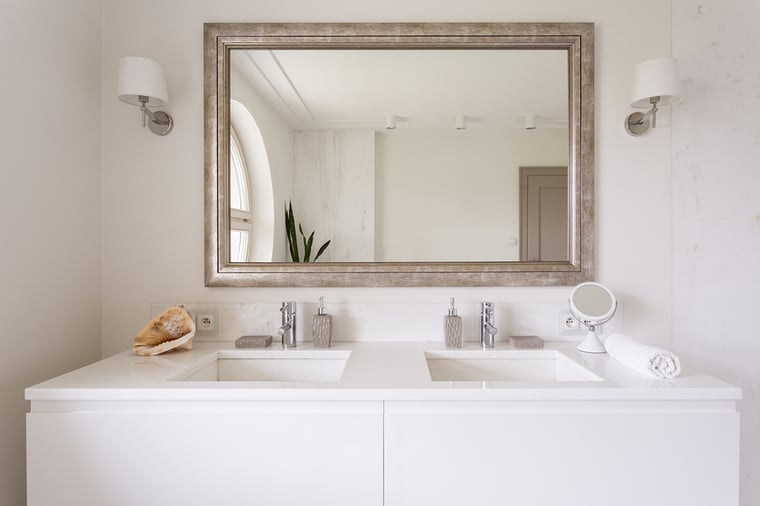 There are a few common styles to keep in mind as you begin the process of putting together the right look:
Contemporary bathrooms tend to be understated, so mirrors and vanities have sleek, angular appearances.

A classic style often features a converted antique or repurposed piece of furniture for the vanity and ornate, gilded frames, some which may include nature carvings.

Like contemporary rooms, modern bathroom vanities and mirrors lean towards an efficient style with clean, angular lines.
While these are good points to keep in mind, don't be afraid to think outside the box and get creative. Here are some unique things to consider:
Choose an unconventional shaped mirror and place it above a traditional or contemporary vanity to add visual appeal.

Take a cue from art museums and suspend one or two wood-framed mirrors over a vanity with elevated basins using visible rope or wire. It adds an element of interest and can be worked into both natural and modern themes.

Dare to go big. Large, wall-sized mirrors over suspended vanities look impressive and help bring in light. For a more polished appearance, use a frame; choose an unframed mirror for a minimalist look.
Adding an interesting mirror to your bathroom's vanity is a terrific way to draw attention, add style and give your space personality.
Natural Light Plus Bathroom Privacy
Natural light works well with bathroom mirrors to visually open up the space. But how do you let the light flow in while guarding your privacy? Interior shades not only help control natural light, they elevate the look of the room and still preserve your privacy. They also work to reduce glare and block UV rays.
Polar Shades offers interior window shades that come in a variety of fabrics, patterns and designs. With so many styles to choose from, it's easy to find an interior shade that complements the look you've created with your vanity and mirror combination.
To determine which type of shade is best for you, stop by our showroom to browse our materials and see samples, or contact us at 702-260-6110 to schedule a free, in-home consultation today.