Don't let laundry day get you down! Have you ever noticed how kids get more excited about going back to school when they've got new supplies in their backpacks? These laundry room trends are a grown-up version of transitioning a must-do task into a can't-wait adventure:
1. Subway Tiles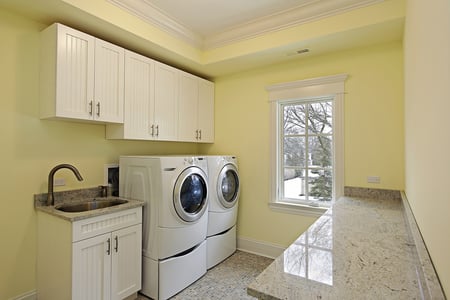 A few years ago, subway tiling became all the rage in kitchens and baths. Now, this trend has finally made its way to laundry rooms. Subway tile backsplashes offer a bit of timeless elegance with clean lines and backdrops that aren't busy or cluttered.
2. Built-In Ironing Board
Free-standing ironing boards cause instant clutter. Not to mention, they are a pain to put away. Fortunately, built-in ironing boards take the stress away. Simple fold-down features enable you to release the ironing board, press out the wrinkles, and then easily put the board back against the wall.
3. Small Accessories With Big Impacts
Every space in your home deserves decorative elements that incite excitement and speak to your style. Bold mosaic tile floors can liven up any space, stunning hardware can take your room from simple to extraordinary, and don't forget to use your ceiling space to its full potential; a small but intricate chandelier can be a fun accessory.
4. Carefully Planned Window Shades
A simple window shade can change the entire look of your laundry room. Are your windows hard to reach? Opt for motorized interior shades that can easily open and close at the touch of a button. Not only do they protect the room from heat and glare, they look stunning as well.
5. Unconventional Containers
Glass mason jars provide a perfect way to store laundry essentials. You won't have to worry about finding secret storage spots when you use these decorative countertop containers! You can also decorate them however you wish to add both function and a personal touch of style to the room.
With personalized touches that give you easy access to everything you need, and some accessories that beautify the space around your washer and dryer, you may find yourself looking for excuses to stock up on fabric softener! For more ways to spruce up your home and get you excited about everyday tasks, check out these articles: