Every craft project begins with one thing – inspiration. And sometimes, finding that inspiration is the hardest part of the process. Get your creative juices flowing with these craft room necessities that will help you get inspired: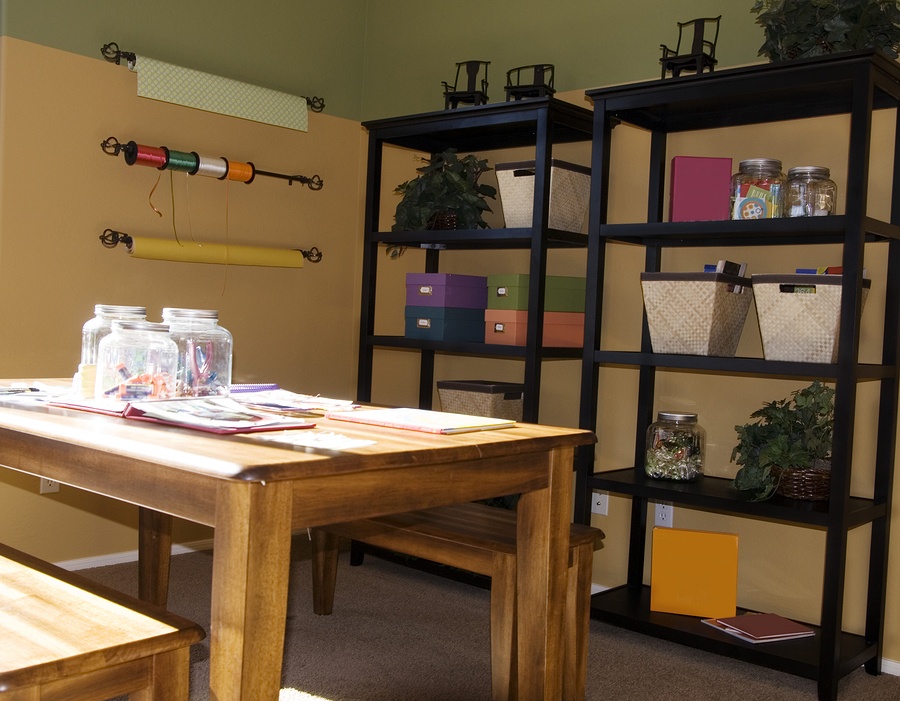 Visible Storage Space
Being able to visualize something is often an important part of the creative process. Seeing what materials you have can be a good motivator. This is why you should consider utilizing visible storage space that allows you to clearly see what you have on hand. It makes it easier for you to work, since you no longer have to go digging through drawers, boxes and closets to find what you are looking for.
Visible storage space can be accomplished in many ways, such as:
• Installing a grid wall – this rubberized wire grid gives you a place to hang things where they are clearly visible
• Installing cabinetry with glass doors
• Installing open shelves
• Removing the doors from existing cabinetry
• Using clear, plastic storage containers
In areas where you cannot incorporate visible storage solutions, another alternative is to label boxes and drawers to indicate what they contain. This can be easily accomplished with a label maker. Or, you could use colored tape and an ultra-fine Sharpie to create your own colorful labels.

Inspiration Board
Inside your craft room, you will also want to set up an area where you can put things on the wall that inspire you. You can fill your inspiration board with just about anything – pictures, fabric swatches, patterns, notes, and more. Looking at things you love is a great way to find some inspiration.
One of the easiest ways to set up an inspiration board is using a cork board with push pins. Another option is to use a magnetic wall. Or, you can mount a piece of fabric to a board, then weave ribbon in a diamond pattern across the entire board. The ribbon serves as a "pocket" to hold things, allowing you to add things to your inspiration board without needing tape or pins.

Note Station

When inspiration strikes, make it easy to write your ideas down by creating a note station. This could be as simple as a conveniently placed notepad and pen, or you could paint one of the walls using chalkboard paint. Another fun option is using a peel-and-stick dry erase board. Available in a wide variety of sizes, these thin sheets easily attach to the wall like a sticker.
Lighting

For any workspace, the correct amount of light is key. Retractable window shades allow natural light to shine into your craft room. Motorized and manual options make them easy to adjust throughout the day. Contact us at 702-260-6110 to set up a free, in-home consultation today.