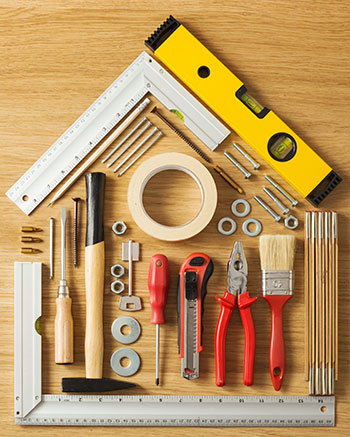 The long days of spring and summer are ideal for transforming home improvement inspiration into the home decor projects that best suit your household. In an earlier post we detailed our favorite 5 Home Decor Blogs to Follow, now we want to take a sharper focus and look at some of our favorite home decor DIY projects.
With the Advent of Pinterest, many dream of becoming DIY designers. However, it isn't always clear where best to begin on a home improvement project. The following is a look at some basic projects to elevate your how-to skills, keep your wallet flush, and best of all, enhance your household.
Chair Reupholstery. This is the original up-cycle DIY project. An overlooked and reasonably priced, modern chair found in your local thrift store is the perfect subject for a reupholstery makeover. These 21st century chairs offer clean lines and are comprised of a solid wooden construction, needing only a fresh seat makeover.
This project enjoys a low price point (materials can often be found for <$30 combined), but it can be time and labor-intensive. Plan to block out a weekend and consider the following expanded tutorial by home designer favorite little green notebook.
Replace Window Trimming. This is most often a must in homes with small children and animals, where the low height of window frames leads to their frequent abuse. Of course, even child-free homeowners will appreciate how the use of different architectural trim elements can change the whole look and feel of the home's interior.
This home improvement project will require some skill and comfort around power tools, and is moderately expensive if you don't have the right tools to start. Check out the step-by-step guide by Kim and Scott of Yellow Brick Home, favorite home decor bloggers. And once your new trim is up, don't hesitate to contact us about the picking the right Polar Shade fabric for your new and improved window.
Create a Stone Fire Pit. Great home improvement projects aren't confined to interior ones. With summer around the corner, this is a great time to upgrade your outdoors with a stacked stone fire pit. An outdoor fire pit makes for a great gathering spot for Fourth of July barbecues and adds a touch of natural beauty to your yard.
This DIY backyard improvement requires patience and a couple hours of sweat (you may want to enlist some friends). The price point can vary depending upon what type of stones you choose, but generally this project will cost less than $500. For more information, check out this step-by-step on how to make a stacked stone fire pit.
For more home decor DIY inspiration follow us on Pinterest. You can browse our blog for household tips, such as picking the furniture that best suits your style and choosing your perfect paint color.