You can pull that new bistro table over to the corner and rearrange some plant containers, but invigorating a patio is a two-part challenge. You must first create the right backdrop and then supply the plants and flowers that will infuse your patio with color and energy all season long. Here are some tips to help you liven up your patio:
How to Create a Lively Outdoor Space
Create the Backdrop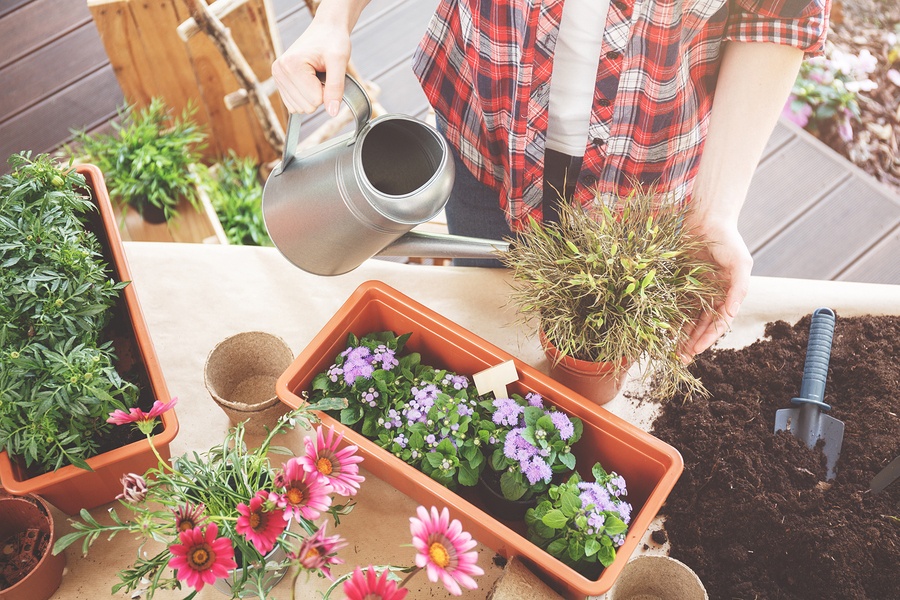 Give new life to old furniture – metal, wood and even plastic – with a fresh coat of paint. A wide array of colors and finishes can revitalize pieces you may have been tempted to toss.
Add color, pattern and texture to your patio with fabric. Pillows and cushions can alter the entire dynamic of a space, so don't be afraid to make bold choices. You can also add a lively ottoman for extra seating.
Pull the look together with an outdoor rug. Choose one that provides a soothing contrast against the color of your patio deck, whether it's made of pavers, brick or wood.
Set lanterns on tables or hang strands of tiny lights above. Lighting has a big impact on the atmosphere, so choose something creative, cozy and inviting.
Add Plants and Flowers
Buy several oversized containers to anchor the corners of your outdoor space. Large containers will make the area feel bigger and more open – and be sure to place wheels on the bottom of each container so you can change their positions as desired.
Stage plants in groups of three and strive for visual variety. A short, medium and tall plant in one container or those featuring different colors or leaves in another. Get creative!
Add a unique element. Raise a section of pavers or bricks in your patio and place a flowering plant or a small shrub in the space for an eye-catching feature.
Now that you've created the perfect patio, protect it from the sun by installing exterior shades. With a variety of colors, fabrics and sizes to choose from, you'll find the perfect shade to complement your exterior design and décor. Call 702-260-6110 to schedule a free, in-home consultation today! For more tips on creating a lively outdoor space, read here: