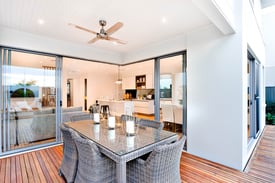 Outdoor living spaces are an extension of the interior space. You can cook, eat and entertain in both spaces. Many times, they flow together with common doors and openings shared between the two. If you harmonize the styles of both spaces, the flow will be even smoother. Below are a few guidelines to help you blend your indoor and outdoor living spaces.
Blending Your Living Spaces Begins Here
Blend colors and textures. If your inside palette is dominated by blues and greens, bring the same colors to your outdoor space. Adding the same textures to both spaces will reinforce the flow between the space. You can also use similar fabric patterns to make this visual connection.
Use matching styles. It doesn't matter if your style is minimalist contemporary or high style Victorian. If you blend the two with the same style, they will become one space, only divided by walls and doors.
Bring softness outside and natural materials inside. One of the attractions to indoor spaces is soft furnishings like couches, chairs, ottomans, and pillows. Added pillows and other soft furnishings to your outdoor space will make it more inviting. On the other hand, one of the attractions to outdoor living is the natural elements. Bringing natural materials inside the house will harmonize it with the exterior.
Control the light. Install motorized shades to keep the hot sun at bay and to also open the flow between your outdoor and indoor room. With the press of a button, you're in control of when to let light in or when to block it out. Polar Shades are an excellent choice for Las Vegas residents.
Use flexible furniture that can be moved inside or out. Lightweight, durable chairs, ceramic stools and easy clean tables are just a few suggestions. Being able to move furniture inside or out will make the two spaces seem as one, both visually and aesthetically.
Get the Best Sun Control Indoors and Out
Your indoor and outdoor living spaces can flow as one with the right combination of colors, textures, styles and furniture. If you need assistance with sun control in your living spaces, talk to the experts at Polar Shades. They offer high quality interior and exterior shades perfect for any home that wants to control the light. Call Polar Shades at 702-260-6110 for a free in-home consultation today.