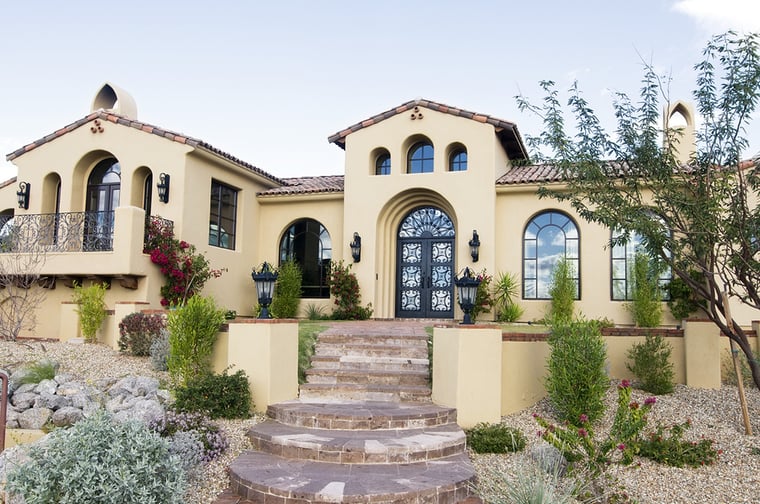 Do you want a photo-ready front yard that catches the eye of every passerby? With a few resources and a little creativity, you can easily turn the front of your home into an amazing scene. Here are a few great ways to jazz up your landscape:
Create a Centerpiece
You don't need to go all-out to create a lavish lawn. A well-maintained and conservative front exterior aesthetic can become an elegant scene when you add a centerpiece. Fountains or statues also add luxury, as do lush gardens and lawn ornaments. You can also simply plant a tree and surround it with smaller plants, mulch bedding or even a swing hung from the branch to capture the attention of anyone who drives by your home.
Decorate Your Driveway
When it comes to landscaping, some homeowners forget that the driveway is an important part of the exterior aesthetic. Consider lining your driveway with trees, rock walls or lights. If possible, create paths that extend from the driveway around the sides of the house to lead the eyes across the entire front yard.
Lose Your Lawn
This may seem like an unthinkable idea to some homeowners, but it may be just the upgrade your home needs to truly stand out. Removing the grass in your front yard doesn't necessarily mean getting rid of your greenery. Large rock beds, mulch patches, potted plants, stone walkways, and a few planted trees are great ways to spruce up your surroundings while saving on lawn maintenance costs.
Bring the Fun Out Front
Many homeowners consider backyards to be functional spaces and keep their front yards focused on curb appeal. Maximize the use of your property by treating your front lawn like the backyard. Put a fire pit out front with seating. Create a small sitting garden with a hammock or bench where you can relax and read. If you're in need of a little privacy, a fence or small wall around your property will let you entertain in the front yard without being in full view of the neighbors.
Use Exterior Window Shades as Functional Décor
Exterior window shades are functional and fashionable, giving your home a boost of elegance, while protecting your furniture and other decor from the sun. Since they're retractable, you can easily roll them up or down as needed.
Polar Shades has a fantastic selection of manual and motorized exterior shades that fit any home. Made from the highest-quality materials, our extensive line of fabric options will beautifully complement any exterior color scheme and features. Polar Shades's exterior shades can prevent nearly 100% of solar rays from disrupting your home with the touch of a button.
Contact us and let us help you pick out the shades that are perfect for your outdoor décor. Our technicians can still install them quickly and conveniently, giving you the style and shade, you need in no time. Schedule your free, in-home assessment by calling 702-260-6110 today.
For more tips and ideas on how to make your landscape stand out, here are some helpful blog posts: