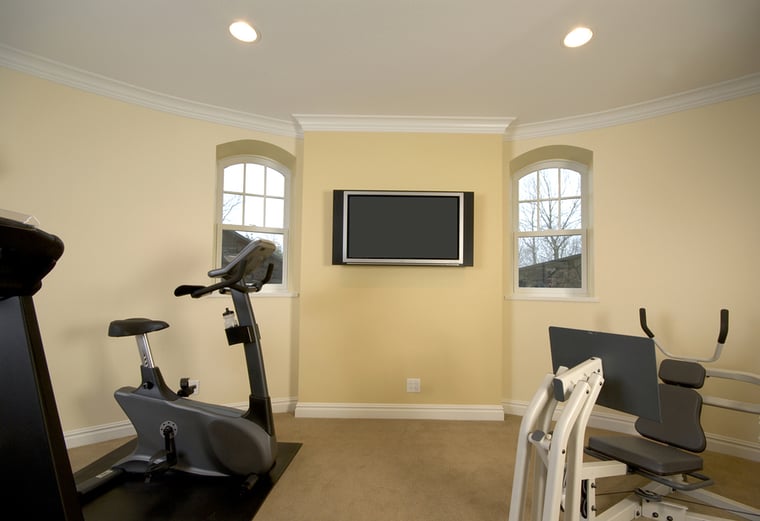 With all of us being forced to spend more time than usual at home, it's more important now than ever to make sure our houses are designed with wellness in mind. Luckily, there are a few small changes you can make to ensure your home is a comfortable, healthy space. Start with these simple tips:
Create Welcoming Entryway
Your foyer is the first line of defense between the outdoors and the rest of your home. Add a doormat or area rug to catch dirt and add seating so that people have a place to sit while they take off their shoes. Not only will this help to keep your home cleaner, but it will promote wellness by keeping some of the germs outside germs from spreading through the rest of your home.
Add a Fitness Area
In many states, gyms are still closed. Even when they open back up, there are some concerns over how safe they'll be. This is one reason why everyone needs a fitness area or a space that encourages movement in their homes.
You can choose a traditional layout with things like a treadmill and dumbbells or get more creative by installing something like a climbing wall. Whatever you choose, try to put your fitness space in a high-traffic area, like in between your home office and the kitchen. Otherwise, if it's out of sight, it tends to be out of mind.
Control Your Home's Lighting
Natural lighting can influence your mood, making you feel happier, healthier, calmer, and more productive. When the light in your home changes naturally throughout the day, it also helps to keep your circadian rhythm in sync, so you sleep better. Adding some motorized interior shades to your windows allows you to easily adjust the lighting in the room to prevent glare and heat gain. Also make sure that you choose the right lightbulbs and add dimmer switches throughout your home. This will give you greater lighting control, which can have a major impact on your wellbeing.
Pay Attention to Air Quality
Air quality is also very important for a healthy home. Make sure you change your air filters regularly and consider investing in an air purifier. Adding some houseplants throughout your home will give it a serene feeling while also increasing the oxygen levels in your indoor space.
Add a View
Studies have found that taking in a gorgeous view, even if it's in a photograph or a print, can release just as much serotonin as actually seeing the view in real life. Make sure your home incorporates views either through large windows or by adding landscape art.
Incorporate Natural Elements
Many of the design elements already mentioned are based on the concept of biophelia, which is essentially the practice of bringing the outdoors in. Not only can plants, lighting and landscapes make a big difference, but you can also create a similar effect by using natural materials, like bamboo and other types of wood in your design. Adding a water feature or even something as simple as wool blankets can help turn your home into a healthy, relaxing space.
Looking for more design inspiration? Take a look at these tips: