All great kitchen renovations start with a plan, and that plan usually consists of upgrades and features you've always wanted to have. However, these plans are not always realistic. Fortunately, you can still have an upgraded, luxury kitchen if you're willing to make a few adjustments.
Every good designer knows a kitchen remodel requires making tradeoffs between style, layout, and most importantly, costs. Each choice made influences the room's look, functionality and potential construction demands. For example, you may want a chef's range but don't have the wall space to accommodate it. You can either make room in your budget for construction to make room, or you can forego the larger appliance for a standard range combined with a chef's cooktop in the island.
If you're having trouble deciding where to make adjustments, asking yourself these questions will help:
Questions to Ask Yourself When Creating a Kitchen Remodel Plan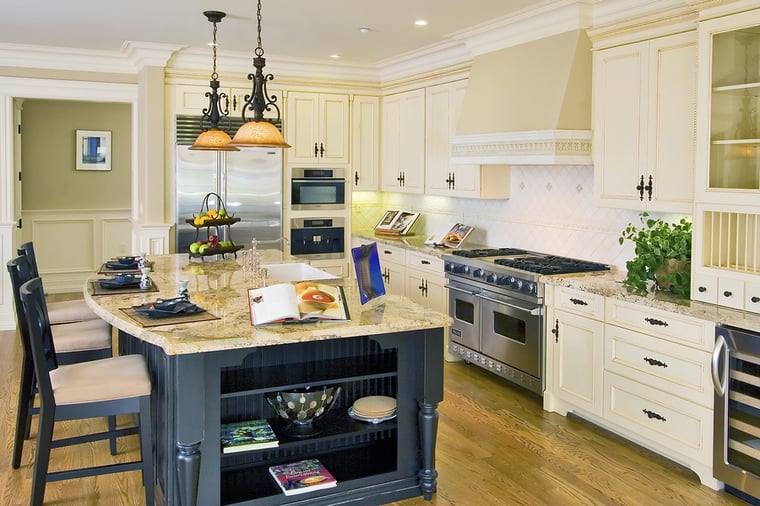 How Realistic Is My Vision?
When planning your kitchen remodel, focus on solutions that take your personal daily habits into account. While you may envision hosting large gatherings and cooking elaborate meals, ask yourself whether or not that's realistic. Do you usually cook meals that are quick and easy? Focusing on accommodating your lifestyle will allow you to save money and add upgrades that you'll get lots of use out of.
What Does Functionality Mean to Me?

A kitchen has its everyday use and entertaining use and, in most homes, the two must co-exist. Do you cook meals from scratch every day? Do you and the kids spend a lot of time baking and cooking? Focus on an efficient layout and multiple prep areas. If you're more of an entertainer or an empty nester, you might opt to put some of your budget towards designer cabinets and high-end countertops.
Which Materials Are Must-haves, and Which Ones Are Not?
A willingness to compromise on materials can be a great way to meet your budget while maintaining the aesthetic you want. Using more affordable materials that give the same or similar appearances to their high-end counterparts gives you your desired result at less expense.
Elevate Your Aesthetic with Window Shades
Window shades add an element of luxury and can be far less expensive than installing new cabinets or appliances. Polar Shades offers window shades that can accommodate any color scheme and style. Contact a dealer near you to learn more.