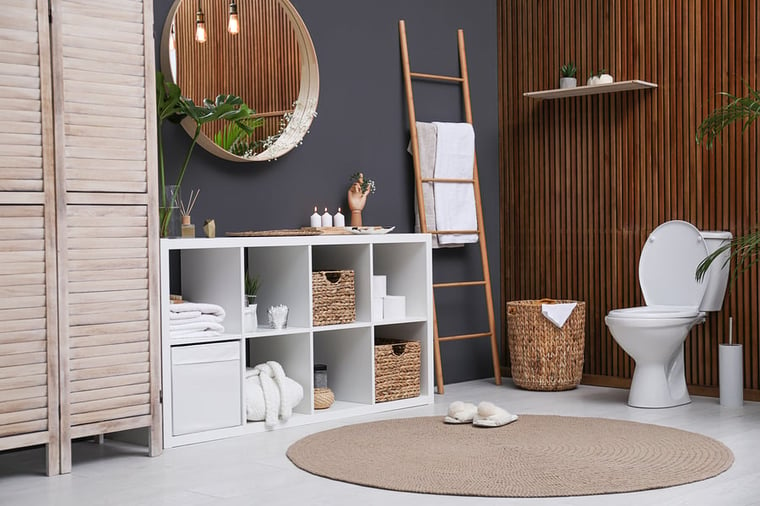 Do you want to give your bathroom a fresh, new look without having to sink a ton of money into a remodel? If so, then an eye-catching accent wall is definitely the way to go. Need some inspiration? Here are a few ideas to help spark your imagination:
1. Colored and Patterned Tile
Tile remains one of the preferred materials for creating an appealing bathroom accent wall. No longer are you relegated to classic 4 x 4 tiles in boring colors. Now, you can choose from an array of colors, patterns and styles.
Create a relaxing spa-like environment by opting for neutral colors, or make a bold statement with bright blue or green tiles. A gray and white patterned tile can also create an understated look that is sure to please most homeowners. Want to step even further outside the box? Consider an entire wall of mid-century fish scale tiles.
2. Artistic Accents
There's no reason you have to use tile to create your accent wall. You can also add natural elements, like cork, stone, wood, or even seashells! These types of natural materials are currently all the rage in luxury bathrooms. Don't be afraid to think outside the box and use your imagination.
3. Focal Prints
A printed wall mural can create a stunning focal point that sets the tone for the entire space. This is particularly appealing when applied to the back wall of a large shower area. Choose from a huge array of images like giant lotus flowers, a rainforest, or a tropical island. The options are virtually limitless, so you'll have no trouble choosing one that's ideal for your unique style.
4. Wallpaper
A fun, patterned wallpaper makes it easy to create an accent wall above a vanity. Coordinate your mirror and other accent pieces to complement the new look you've created. This is also a great way to experiment, as it's much easier to remove wallpaper than it is to replace tile or cover a giant mural.
5. A Splash of Paint
Of course, the classic way to add an accent wall in other rooms is simply to get creative with the paint. There's no reason this can't work in the bathroom as well. Choose one of the season's hottest colors and add a bright and beautiful accent – the easy way!
Elevate Your Look with Window Shades
Interior shades are a great way to add a pop of color throughout a space and allow you to adjust the natural light to perfectly highlight your accent wall. Contact Polar Shades at 702-260-6110 to schedule a free, in-home consultation today.