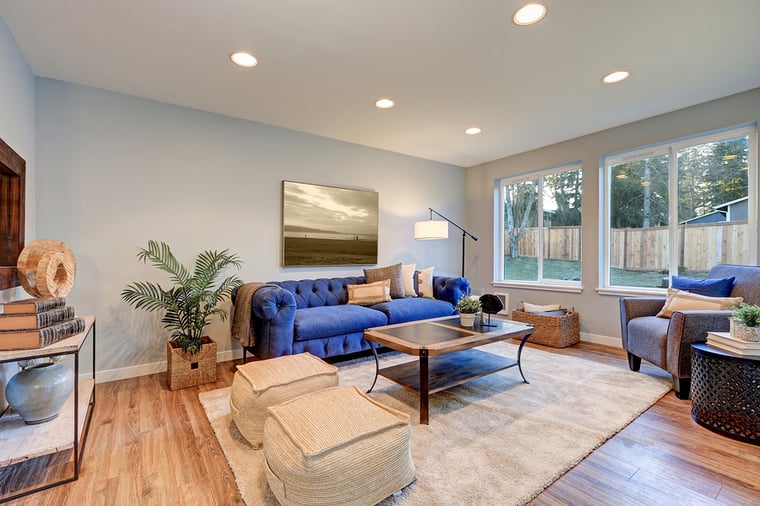 Are you looking for an easy way to breathe new life into your home's interior decor? A fresh coat of paint can do wonders, especially if you choose some of the new year's most popular trending colors. Every year, the color management company Pantone announces their picks for the colors they expect to see used most often in interior design. By taking a page from their book, you can give your home a trendy refresh without breaking the bank.
So what shades are the hottest right now, and what can you do with them? Check out these suggestions from the pros:
2020's Hot Paint Colors
You Can't Go Wrong with Blue
Not only was "Classic Blue" named the 2020 color of the year, but it seems like all shades of blue are a hit with interior designers right now. Try updating your bedroom with a pale blue shade that will help promote sleep, or add a splash of bright blue to an accent wall in your living room or dining room. A pastel blue/green can also work well in rooms where you want to create a light, calm atmosphere.
"Millennial Pink" Continues to Stay on Trend
Pink has been a popular color in interior design for several years and continues to be a favorite among pros. This year, look for blush shades that are toned down a bit from their cotton-candy cousins. If you choose to incorporate this color into your home's decor, an interior designer or paint professional can help you select a shade that looks great in all types of lighting.
A Natural, Neutral Green
A softer, more neutral version of the avocado green that was popular in the 1970s, the 2020 shade is mixed with a touch of grey for a toned-down look. You can choose to mix it with other neutral colors, like cream and beige, to give the area a natural, organic look or mix it into a black and white room to add a touch of color and dimension.
Golden Yellow
A bright, golden yellow also tops this year's list. Its boldness makes it the perfect accent color. This is an excellent way to bring some warmth and vibrance pop of color into almost any room.
Paint Your Room in the Right Light
When it comes to interior design, lighting is everything. Natural light is key to making each room feel open and bright. With sun control products from Polar Shades, you can get the perfect amount of sunlight without exposing your furniture and décor to its UV rays. Our interior shades are manufactured using light-filtering technology that allows light to filter in even when the shades are down. Our fabrics come in a variety of openness factors that determine how tightly each shade is woven, so you can get the ideal amount of natural light for every room in your home.
To explore all of our interior and exterior sun control options, contact us today at 702-260-6110 to schedule a free, in-home consultation, or stop by our showroom.