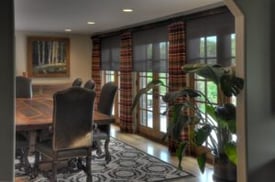 What are solar shades? They are unique coverings installed on windows to control excessive UV light. Contact Polar shades for quality shades and dealers in Las Vegas.
Each year, as summer approaches, solar shades sell like hotcakes. Amid intense heat from the scorching sun, homeowners want an efficient regulation of temperature. Thus, many customers ask important questions about how solar shades can help.
What are solar shades? Why do I need them? Can they regulate heat? Do they offer privacy?
Here we answer your questions about solar shades to help you understand their importance and why they are the best solution for the summer heat.
What Are Solar Shades?
They are a special type of roller shade made of a unique fabric dense enough to block UV rays while still allowing you to see outside. Solar shades are also known as sunshades.
Why Do You Require Solar Shades?
Installing solar shades on your windows not only keeps away excessive heat but also grants you an uninterrupted window view regardless of intense sun rays. For example, suppose your windows overlook a breathtaking countryside view, and there is a lot of light shining in. Solar shades will block excessive light and lower the temperature without completely blocking your view.
In addition, they offer the following benefits:
#1 Reduce Summer Heat
By reducing and obstructing bright light, solar shades aid in heat reduction. The extent of heat protection provided by your solar shades depends on the openness of the weave (percentage of solar shade).
Similarly, the color of the shade fabric also impacts solar heat absorption. A brighter material reflects more light rays than dark-colored fabric. Therefore, if you want to block more light from entering the house, a darker fabric would be your perfect match.
#2 Protect Home Decor and Aesthetics
UV rays can separate strong chemical bonds in fabric dyes. Over time, this can induce a bleaching effect on textile surfaces, causing the fabric to become weak and brittle.
Solar shades can help shield your home furnishings from fading by lowering the Ultraviolet radiation that enters your window. They'll also keep solar radiation from degrading your floor coverings, artwork, and tiled floors.
#3 Reduce Power Bills
Solar shades lower the indoor temperature by limiting the intensity of light rays that enter the house, increasing energy efficiency.
This slight decrease in indoor temperature supplements the HVAC system during the warmer seasons, reducing the amount of money you spend on power bills. Furthermore, lowering the indoor summer temperatures keeps you comfy in all seasons.
Where To Find Solar Shades In Las Vegas
When summer arrives, it's the ideal time to begin thinking about getting your home ready for summer in Las Vegas, and installing solar shades.
Solar shades consist of high-quality woven fabrics in various styles and design features. They filter natural light and illuminate the interior environment while preventing unwanted heat and solar radiation. Moreover, they protect home decor against color fading and supplement daily energy consumption.
If you'd wish to learn more about our solar shades, call us at 877-260-6110 or contact us for unlimited in-home consultation. Our team is always ready to assist you in making the best choice or finding your nearest dealer.
Contact Polar Shades at 702-260-6110 for a free estimate on installing shades in your home today. Download our free Shades vs. Blinds for more information.