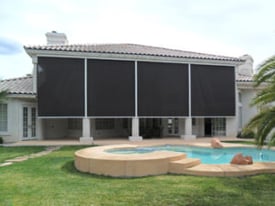 These backyard patio shade ideas will put you in the mood to spend endless hours in your outdoor living spaces on those hot afternoons.
Few things are as invigorating as relaxing on your patio. However, sometimes it's just too hot for comfort, and the last thing you want is to get exposed to harmful UV rays. Ideally, a backyard shade should allow you to enjoy the fresh air while protecting you from direct sunlight. That said, here are some backyard patio shade ideas to keep in mind:
Choose Stunning Colors
Stunning color combinations add a wow factor to your patio. So, choosing patio shades with vibrant colors adds brightness to the space while providing privacy and sunlight protection. Bright colors also help you create a serene and calm space where you can unwind after a long and stressful day.
Shade and Shelter
Another ingenious way to add shade to your patio is by constructing a pergola on the space. After that, use a roller shade or screens to keep sunlight at bay. You may even use sheer curtains to cover the pergola's side and top for some extra privacy. Screening your outdoor space is also an excellent idea. There are multiple awning options to choose from, including rolling shades and motorized retractable awnings.
Create Multiple Shaded and Dining Spaces
When planning your patio, add various shaded and seating areas. This will allow you to chase the sun and the shade while also offering shelter from wind/rain. With such a setup, it's easy to adapt to the changing weather. A pergola/constructed on the patio provides a cozy seating area. Installing roller shades on each side ensures anyone who wants to escape the sun has a place to do so.
Create a Multifunctional Space
If you have a pergola and want to add a shade, define the space and make it multifunctional. For instance, you may want to position a vinyl shade over the grill, sink, or bar to define an outdoor kitchen space intended to host summer barbeques under the appropriate amount of shade.
Plant a Hedge
Planting a tall hedge next to your outdoor living space provides both shade and privacy for your afternoon soirees. A tall hedge also provides a natural shade. If you want the space to remain shaded all year long, plant evergreens. Hanging plants are another affordable option for enhancing your backyard patio shade. Hanging or potted plants provide privacy and shade for your outdoor space while adding a wow factor.
Hang Rolling Shades
You can install outdoor rolling shades almost anywhere on your patio. They provide shade, protection, and privacy from the elements while enhancing the appeal of your outdoor space. Hanging rolling shades is pretty easy, making them ideal for any patio.
Key Takeaways
There's so much you can do to improve your outdoor living space. So, whether you're looking to shade your patio or add an extra feeling of privacy, you'll find what you need to create your personal haven. At Polar Shades Sun Control, we provide a range of exterior shades and awnings for projects of all sizes. Contact us today for a free in-home consultation.
Contact Polar Shades at 702-260-6110 for a free estimate on installing shades in your home today. Download our free Shades vs. Blinds for more information.