Decks, patios, and porches – all extend your home's living space and allow your family and friends to connect with the great outdoors. But it can get hot out there! Exterior shades and awnings are a great way to keep everyone comfortably protected from the sun and heat. They're the perfect architectural addition to your home, opening up vistas while protecting valuable furnishings from the sun's rays. An added bonus: they can play a big role in conserving your home's energy use. Discover how to bring better shade to your home with these patio awning and shade ideas.
Energy-Efficient Exterior Shades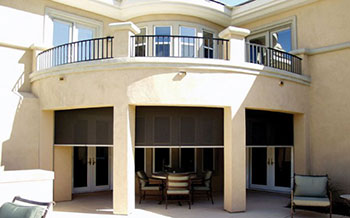 There are many areas of your home where you probably enjoy – and prefer – natural sunlight. Kitchens, offices, and reading areas all benefit from daylight. In many homes, though, there are long periods of daylight hours when no one is at home, making direct sun unnecessary. That's the time exterior protection, such as our exterior retractable shades can help with energy efficiency, dramatically cutting air conditioning costs in the hot summer months; or for desert areas like Las Vegas or Phoenix, most months of the year.
Expand Your Outdoor Living Space with Awnings
Do you love entertaining poolside? Retractable awnings provide instant shade, offer sun protection and add value to your home. What's more, they expand your living space outward, creating a beautifully-shaded outdoor oasis where friends and family can gather. Retractable awnings are easily installed to any part of your house and they come in a wide range of colors, styles, and fabrics to perfectly complement your home's exterior. Family and friends no longer have to worry about shading their eyes from the sun while enjoying your backyard.
Retractable awnings are versatile and add a lovely splash of color to your home's exterior façade. They're great for protecting outdoor furnishings from the sun's harsh rays and, unlike fixed awnings, they can be open and closed as needed, such as when plants and flowers require sun or the space needs direct sunlight to warm up.
ZipRite Shades: Keep Pets In and Pests Out
If you want to keep the sun, wind, and pests out, choose a ZipRite Shade. Our revolutionary shade design eliminates all gaps between the fabric and track, it provides a complete seal that protects your home and patio. It's also great for keeping out wildlife and pests and allows you to create an expanded living space entirely secured for family pets.
Learn More about Patio Awning and Shade Ideas
At Polar Shades, we understand first-hand how important it is to have comfort within your home's outdoor space. We offer an expansive range of beautiful patio awnings and shade in a wide variety of colors sure to complement any home. All of our products can be custom-made to your home's unique specifications and sun control needs. Start enjoying the space outside your home in ways you never imagined. Contact us today at 877-260-6110 or find a Polar Shades dealer near you.