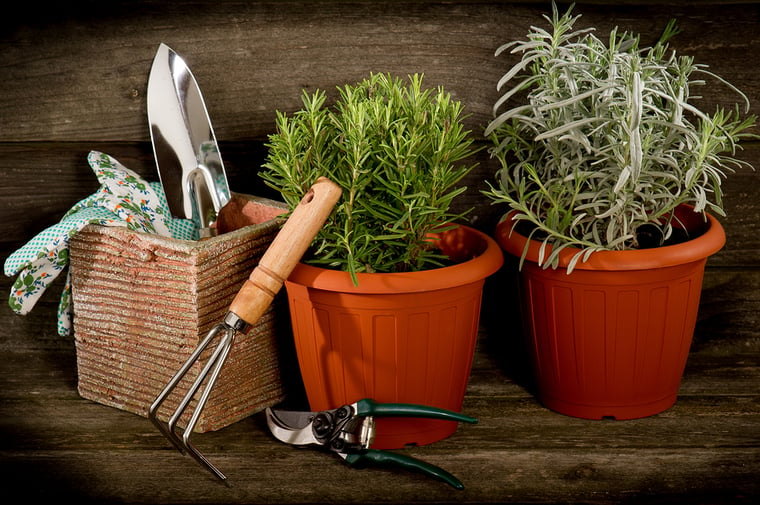 When the Las Vegas temperatures rise, thoughts turn to refreshing cocktails and mocktails designed to quench your thirst and please your palate. No refreshing beverage would be complete without garnish, and these herbs can be grown right from your backyard, even in the desert heat.
5 Easy-to-grow Herbs for Cocktails
Most of us focus on the liquid ingredients in our favorite drinks but adding herbs to the mix can take any beverage to the next level. Here are some of the best herbs you can easily grow in your garden to use in your cocktails:
Lavender pairs extremely well with lemony drinks and kombucha. To tone down its strong flavor, try making it into a simple syrup first.
Mints like spearmint and peppermint taste great when added to ginger, berry and citrus-based drinks and are the perfect toppers to mojitos and tequila-based drinks. They're also a great choice for those who prefer

container gardening

.
Basil comes in several varieties including sweet, lemon and cinnamon. Use it in place of mint for a lovely flavor surprise.
Rosemary is often thought of as a "winter herb," but it also works well in summer drinks. Its strong, peppery taste goes best with "heartier" drinks like Bloody Marys.
Lemon verbena is a sweet and lightly floral herb that mixes well in sangria, lemonade and other fruity drinks. It's also a great substitute when you run out of lemons.
For a bonus herb, try thyme, which pairs great with citrus drinks like those made with grapefruit. Don't be afraid to use more than one herb to give drinks an interesting profile. For example, fresh basil and mint create a smooth, herbaceous flavor. Finally, if you're going to "muddle" your herbs, do so carefully, as over-crushing can drastically change the flavor.
Protect Your Herbs with Exterior Shades
Most herbs thrive best with full sun that is lightly shaded. In Las Vegas, the intense heat can reflect off surrounding surfaces and scorch the plants' leaves in a short time. A great way to reduce the amount of direct sun on your herbs is to install motorized exterior shades and shades on your deck and patio. They're a terrific solution for protecting your plants and come in a wide range of fabric colors to complement any home's outdoor design theme.
To learn more and for help in choosing the right motorized shades for your home, contact us today at 702-260-6110 to schedule a consultation.