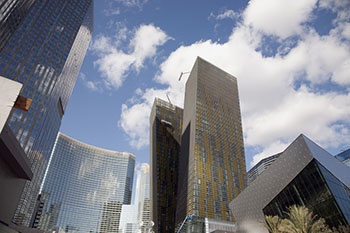 When you go on vacation and stay at a hotel, you may request a room with a view. But when you live in a high rise, you can feel like you're on vacation every day – as long as you make the most of the view with interior shades.
Interior shades are particularly well suited to high rises featuring large windows and an abundance of glass because they provide an effective solution to every window treatment criterion:
Privacy
Your quest for privacy might depend on which floor you reside as well as the proximity of nearby buildings. If you have a street-level view of an encroaching neighbor, you might prefer greater screening than someone who lives on the 20th floor and whose closest neighbor is blocks away. In all cases, shades can easily provide the degree of privacy you desire.
Light Control
Light, airy spaces draw many people to high rises in the first place. But you probably don't want to wear your sunglasses indoors, either. Balance your preference for light with the understanding that the more you close off natural light, the more you will depend on electrical light.
Temperature Control and Insulation
Since shades control how much light enters a room, they also affect the room's temperature. Depending on your own internal thermostat, you might wish to block excessive summer sun but capitalize on the winter sun in your high rise.
Orientation/Exposure
If your bedroom faces east, you either love the early morning sun or want to block it out. If your living room faces south and your windows are left uncovered, it will absorb a great deal of solar heat as the sun passes overhead. If that room faces west, you won't want to walk into an overheated sauna at the end of the day. In all cases, blackout shades might be right for you.
Consider safety and convenience
If you have children or pets, motorized shades eliminate the safety hazard of dangling cords. Motorized shades also offer unparalleled convenience, allowing you to open and close your shades with the push of a button and even from your cell phone. If your high rise features an abundance of windows short or tall, motorized shades will expand your definition of convenience.
Style
Shades complement any decorating style, and because they're available in a wide range of colors, your options naturally multiply.
Consider Polar Shades
Frame the windows in your high rise in the best way possible with the help of Polar Shades – the "high rise" among all other shade companies. Polar Shades is different because they:
Offer an in-home consultation
Provide custom measurements
Manufacture their own shades
Install their own shades
Provide the best worry-free guarantee in the industry
Call Polar Shades at 702-260-6110 for a free consultation – and begin forming a new view of your high rise.