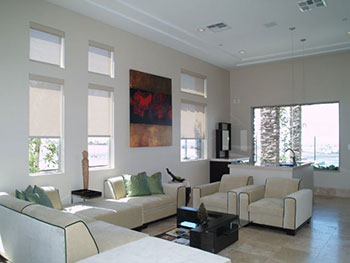 Window shades come in many styles. They are as decorative as they are functional, which makes them the perfect choice for window coverings. Before you begin shopping for actual designs, interior and exterior alike, you need to decide on either the manual or motorized variety. There are pros and cons to each type of shade. Here are a few to consider:
Manual Shades
Pros
Price - One of the most noticeable differences between manual and motorized window shades is the cost. Investing in manual shades is typically less expensive. This makes them a good choice, when you're working with a limited budget.
Choice of Fabrics - Manual shades are available in a wide variety of fabrics. It's extremely easy to match a fabric or fabrics you like with your current decor.
Functionality - These shades do a wonderful job of filtering light in the room. If you prefer to block light out, there are options for that as well. Opening, adjusting or closing a manual shade is simple. It's done via a pull chain or cord.
Cons
Installation - In order for manual shade installation to go smoothly, measurements must be precise. If you aren't familiar with how to take these measurements, the task can take more time than expected. Professional installation is recommended.
Durability - The construction of some non-motorized shades isn't durable enough to last as long as their more expensive counterparts. There's also a possibility the chain will break. Keep this in mind, if you're buying shades for a child's room or a high-traffic area.
Motorized Shades
Pros
Improved Home Security/Safety - If you travel a great deal, motorized shades give potential burglars the impression that you're home. Simply operate the shades from your phone or tablet remotely and enjoy your trip. If you share your home with small children and/or pets, there's no need to worry about injury, as a result of tangled pull cords.
Additional Options for Placement - Once installed, motorized shades are an excellent choice for tall or high windows. Why? All it takes is the touch of a button to adjust them perfectly.
Greater Accessibility - Automated shades allow anyone with mobility issues to open and close these window coverings with ease, from anywhere in the room. If you frequently find yourself reaching around large pieces of furniture to adjust your shades, consider replacing them with the motorized version.
Cons
Cost - For some people, the higher cost of these shades may be a deterrent. It's important to remember you typically get what you pay for. The quality of motorized shades are well worth the extra investment.
Installation - It may be necessary to hard-wire automated shades. For that reason, many people end up paying out-of-pocket for electrical installation.
For additional information or to request a quote, contact Polar Shades at (877) 260 - 6110.