Do you love surrounding yourself with bright, bold shades or do you feel more at home with soft, neutral tones? Your home's color palette is an indication of your personality, your style and the feeling you want to create in your space.
Tips to Help You Develop Your Perfect Home Color Palette
Create a Calm, Zen Space
If you want your home to feel like a retreat after a busy day, your home's color palette can help. Filling your space with neutral colors and soft shades of blue and green can create a calm feeling. These soothing shades will help you unwind and relax. Pair these colors with live plants and comfortable furniture to make your home feel more inviting.
Showcase Your Bold Personality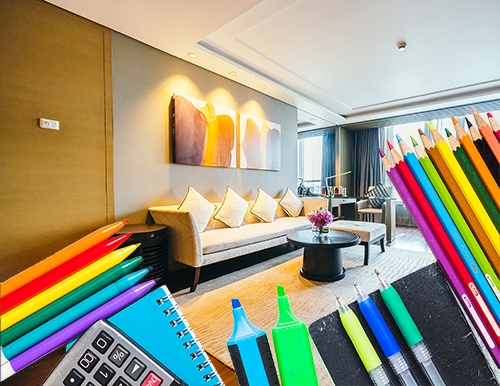 Those who love adventure in their lives are more likely to make adventurous choices in their home decor. Choosing a red, bright orange or even purple shade can make a bold statement. Hues of purple inspire creativity and red brings energy to your space.
Embrace Minimalism
If you've done the work of decluttering your home, organizing your belongings, and focusing on collecting fewer things, you might want to consider opting for a minimal color palette as well. Black, white and gray are obvious choices for the minimalist, but that doesn't mean you'll be stuck with a cold color scheme. Warm shades of gray, combined with soft textures and curved lines, can still make a room feel warm.
Improve Your Mood with Color
There's some serious psychology behind the way colors affect your mood. That means your paint choice can make a big difference in the way you feel inside of your home. If you want your space to feel bright and cheerful, opt for a sunny shade of yellow. Greens can soothe and inspire. Browns signify a connection with the earth that can make you feel grounded. Think about how you want to feel inside your home before choosing your paint colors.
Proper Lighting
Any color palette can be enhanced and accentuated with the proper lighting. Conversely, it can also be drowned out by too much light. Be strategic with the placement of your ambient lighting fixtures and monitor your natural lighting. Consider installing window shades, which will not only help control the amount of light in the room, but will protect your privacy without compromising your view.
The Finishing Touches
After developing your color palette, the rest of your design choices can help showcase the colors you've chosen. Consider your palette when choosing decor and home accessories, from artwork to throw pillows.
For more information on your home's color palette can be accentuated with proper lighting via window shades, contact us today at 877-260-6110.