No, they're not as expensive as your furnace and air conditioner. They're not even as expensive as your kitchen appliances or your washer and dryer. But window shades represent an investment in your home, and you want to ensure your investment is protected.
A warranty can provide peace of mind against such worries. But not all vendors offer warranties – or, if they do, the warranty is little more than a verbal assurance you can return them as long you keep the receipt.
You can do better – a lot better – if you spend time and do your research.
Hold the warranty up to the light
Only companies that provide expert measurements and manufacture premier window shades will back up their efforts with a written warranty. Window shade warranties typically cover defects attributable to manufacturing or assembly problems – in other words, the problems occurring on the manufacturer's "clock." Fabric and electronic defects are covered by the respective factory manufacturer's warranties.
Furthermore, the terms of the warranty should :
Be written in simple English. You shouldn't need to hire an attorney to parse the language.
Be included with your shades on a separate document. A sales receipt is not a warranty; it simply supplies proof you made a purchase.
Specify a procedure by which you make a claim.
The Polar Shades difference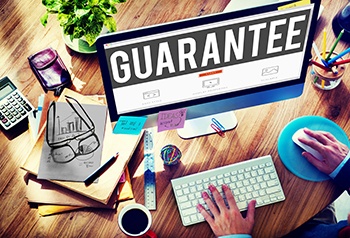 If you think you're expecting too much from the warranty process, then you're in for a pleasant surprise – and even greater peace of mind – with the warranty offered by Polar Shades. It guarantees shades against defective workmanship and materials in these clear and succinct terms:
"All hardware and parts supplied by Polar Shades Sun Control, Inc. are guaranteed by a limited lifetime warranty from date of purchase against defects which are attributable to faulty manufacturing or assembling such that damage is caused to the unit while used in the manner the product was intended. Polar Shades Sun Control, Inc. will repair or replace any defective parts or materials at no charge within the warranty period. All fabric and electronics are covered by the respective factory manufacturers' warranty."
We provide information about our warranties on the site here. It specifies the claim procedure in straightforward terms. Written notification of a problem must be made immediately and include the following information:
A copy of the Polar Shades original invoice or dealer's invoice
Details of the cause, type and extent of damage
The date on which the damage or failure occurred
The full address of the claimant and dealer
As you might expect, our warranty doesn't cover damage stemming from accidents, neglect, storms, other acts of God, or normal wear and tear. When you call for a consultation, you'll see the Polar Shades difference is not only in our industry-leading warranty but in the unparalleled quality and durability of our premier products. Call 877-260-6110 to learn more today.