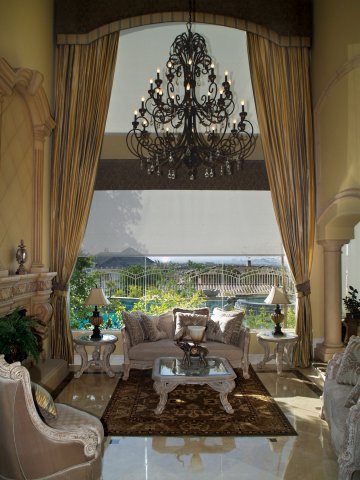 Imagine you've just redesigned a room in your home. You've found the perfect paint color, flooring, lighting and furniture to create a space you adore. Now, you need one final touch to pull the room together: fabulous window treatments! For a discerning homeowner, motorized drapery tracks make a sleek, modern companion to a beautiful room.
What are drapery tracks?
Drapery tracks are motorized systems that allow drapes to be opened at the touch of a button. The system typically includes tracks which attach to the ceiling or wall to hold the drapes, a motor, and a control module. A track system eliminates the cables of traditional manual curtains which can be both aesthetically unappealing and potentially hazardous to children.
What should you look for?
As you search for the perfect drapery track system, pay attention to several things. Most importantly, choose a system you can customize to suit your needs and specifications. If you have windows covering multiple walls in a room, look for continuous tracks that bend to accommodate corners. In addition, look for drapery tracks that function with a variety of curtain types so you will not be limited in your selection. Whether your system is Pinch Pleat, RippleFold or Accordia, our drapery track system can accommodate your needs.
Several other easily overlooked aspects of drapery tracks warrant your attention. The motor, control module, and tracks themselves should all be visually pleasing and work with the overall room. We can custom powder coat your tracks to match your décor. Your drapery system should have a manual override to enable you to open and close the drapes by hand in the event of a power outage. Lastly, look for a system with a quiet motor. Visiting our showroom in Las Vegas to test the system will help you decide if you'll be happy with the noise level and overall functionality.
Another important component to look for is a quality control module that lets you customize and save preferences. Look for settings that let you choose whether you want your drapes open fully or partially and that allow you to adjust things such as the speed and the time of day curtains open and shut. Remote controls, table top modules, wall switches, and timers may be available for the system you choose to add even more convenience.
Drapery tracks are excellent for showcasing gorgeous drapes and giving a room a "wow factor". Customized settings make it easy to protect your home from the damaging rays of the sun, control temperature, conserve energy, and reduce glare, all while enjoying the convenience and beauty of modern luxury. For the homeowner that demands the best, drapery tracks are a must!