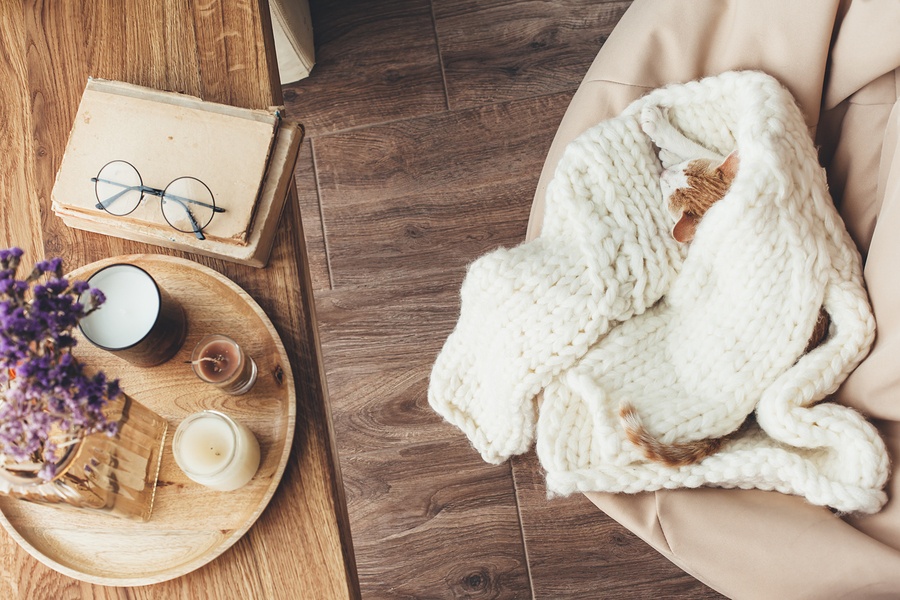 Las Vegas winters might be mild, but desert nights can still get cold and temperatures start plummeting during the holiday season. If you want your home to feel warm and inviting this winter, you might want to consider a few decorative additions. Warm up your home with some simple, cozy touches for winter.
Cozy Touches for Winter to Make Your Home Feel More Inviting
Add Living Color to Your Living Room
Add oxygen and some calming, festive colors to your living room by bringing natural foliage inside. Include low-maintenance ferns, shrubs and flower arrangements that thrive in indoor environments.
Hang Thick Floor-to-Ceiling Curtains
If your room needs some extra warmth, add it in the form of floor-to-ceiling draperies. These window treatments help retain warmth on cold desert nights while adding texture and softening the feel of your space for holiday gatherings. Motorized drapery tracks make it easy to pull drapes back and let in the sunshine.
Switch Your Lightbulbs
Just like the air, light and color can be either cool or warm. If your lightbulbs emit cooler tones, such as bright whites and blue-tinted hues, it might be time to switch them out for a few months. Warm yellow bulbs create a cozier, more intimate ambience while preventing the sterile effect of clearer bulbs.
Spread Out Warm Blankets
Complement your new drapery with layers of soft blankets – the kind that are actually meant to be used. Spread blankets over your sofas, chairs and ottomans to make your space look truly livable. Don't be afraid to throw in a few extra throw pillows this time of year too.
Are you ready to warm up your home with some cozy touches for winter? When you choose drapery tracks and window shades by Polar Shades, you are choosing the highest quality product backed by the best warranties in the industry. Contact us today at 877-260-6110 to request a free in-home estimate.