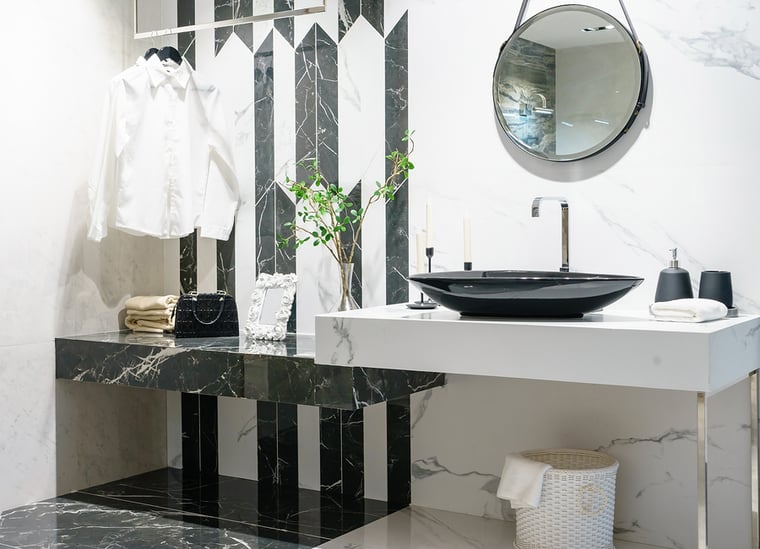 Are you in the mood to freshen up one of the rooms in your home? The bathroom is a great, manageable place for a relatively quick and easy project! Although you can choose to take on a renovation, there are plenty of ways you can upgrade a bathroom in your home with enhancements that don't require significant remodeling projects. Here are ten design tips to help get your creative juices flowing:
Purchase new linens like towels, washcloths and robes to add a new look and feel to your bathroom.

Swap out your cabinet, sink and shower hardware for new pieces in stunning silvers or brass.

Upgrade your lighting fixtures and install adjustable light sources that allow you to set the mood with the flip of a switch.

Repaint or wallpaper the room to completely transform its appearance.

Consider replacing your existing rectangular mirror with a more decorative, stylish oval or rounded mirror.

Install a new bathroom fan that is quieter and blends into your color scheme.

Replace your toilet with a high-efficiency model that's more comfortable.

Add some personality by displaying artwork or photography.

Integrate organizing solutions, such as containers or bins, that clear your counter spaces.
Polar Shades offers innovative products designed with your comfort and style in mind. These easy-to-use, affordable interior and exterior shades are available in a variety of attractive fabrics and colors to match any room's design scheme. Available in motorized and manual configurations, our shades will block the sun and UV rays, preventing your furnishings from fading. Want to schedule a free, in-home consultation? Contact us at 702-260-6110 today!