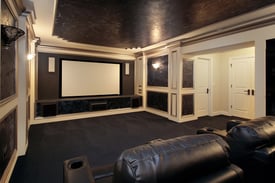 When people ask how you plan to equip your "TV room," it's no wonder you set them straight and declare your goal is to create the perfect media room. As long as you have big aspirations, you might as well plan big too, and ensure you have the two things you need most:
A list of all the components, which technically qualifies as more than one "thing," but since the components are interconnected, it's smart to view them as a whole.
Window shades made in a blackout fabric, which will allow you to enjoy your media room to the fullest, even when the sun is shining outdoors on a cloudless day.
Turn up the volume on your media room
In a perfect world, you would have a vast space to devote to a home theater, meaning one that includes a theater projector and theater screen. But like most people, you're probably trying to make the most of a smaller room that leads directly to another busy room or hallway.
While it might be ideal to position a media room next to the kitchen, don't let other logistical challenges deter you from your goal to create the perfect media room. If you do your homework and make smart equipment choices, your media room will be an attention-getter. Just be sure your shopping list includes:
A flat-panel TV
Compact speakers
A receiver
Surround sound, including a subwoofer, or a premium soundbar
Polar Shades seals the deal
With your list complete, you can look forward to scheduling a free in-home consultation with the window experts at Polar Shades. They cannot do anything about the stairs, doors and rooms adjoining your media room, but they can show you how Polar Shades' blackout fabric will keep the room in a completely dark state once the opening credits begin to roll.
Unlike other so-called "room darkening" shades, Polar Shades' blackout shades are expertly measured and cut so absolutely no light filters in from the bottom or sides of the shades when they're closed.
However, don't infer too much from the name. Blackout shades are thus named because they are made from heavy-duty fabric. They are available in a wide variety of colors – not just black – to complement any color scheme. Contact Polar Shades at 702-260-6110 to experience blackout shades in your media room today.