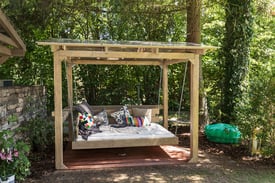 There's just something about nature that brings a calming effect. People have brought the outside into their homes in the form of potted plants, flowers, large sunny windows, oak furnishings, and much more. Nature is arguably the longest-standing, most popular interior decorating theme. But what about the opposite? Instead of bringing nature to interior spaces, what about bringing interior-like rooms outdoors?
Outdoor rooms are in high demand this year and why not? With big advancements in weather-resistant fabrics, variety of outdoor furnishings and styles, versatile lighting options, and exterior shades to keep those outdoor spaces cool and comfortable on even the hottest of summer days. The following are a few ideas on trending outdoor rooms making a big splash:
Bathing. While an outdoor bathroom may seem odd, you should consider these outdoor bathroom styles before dismissing the notion. Bathroom remodels have always been big, and why not? Bathrooms are where we go to relax, refresh, and rejuvenate after a long, hard day. Taking it outside and blurring the line between indoor and outdoor offers a number of advantages. Build yourself a private spa-like atmosphere to relax in. Add an exterior shade option, such as a ZipRite shade, to improve privacy and reduce sun glare.
Swinging & Sleeping. What beats a lazy afternoon nap on a sunny porch bed? Take the idea of a guest bedroom and imagine it outdoors. You can keep it simple with a swinging daybed hung from your back-porch or you can go all out with a separate space defined by furnishings that draw people into sleep and relax. Nevada homes are a particularly great spot for this type of outdoor room because of the dry climate.
Dining. Invite your family and friends to enjoy food amidst a more natural setting with an outdoor dining room. As with the outside bed idea, you can make this as simple as a table with four chairs on your patio or as formal as a vine-covered oak table reminiscent of wine country. You can also opt to keep it small and go for a cafe feel. Small cafe sets are readily available and a great solution for creating a natural room-like atmosphere in a small area. Decorate with native plants and lights for the perfect place to enjoy early morning coffee (or post-work nightcaps) in your backyard.
Install Exterior Shades in Your Backyard
Are you feeling inspired yet? If you are interested in taking the indoors outside and transforming your backyard into a place of contemplation, relaxation, and entertainment, contact the experts at Polar Shades. We can install the perfect exterior shades to help your space stay cool and private; must-haves for outdoor rooms. Call 702-260-6110 for a free in-home consultation.