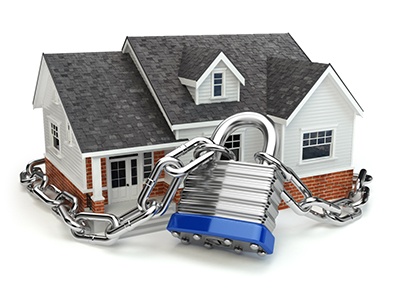 If you often find yourself a victim of Murphy's Law -- if anything can go wrong, it will -- then traveling away from home might cause you a good deal of anxiety. After all, there are already too many horror stories of blissful travelers coming home to find their water main burst or home burglarized. You don't want to be another statistic when it comes to such vacation nightmares.
The good news is there are easy steps you can take to protect your home while you're away. We wrote about a few of these tips in an earlier blog that was such a hit, we wanted to offer up some more. Here are 4 more tips on keeping your home safe while you enjoy a summer vacation:
1. Install motion lights near doorways.
These lights are made to turn on whenever someone comes near your doors. They're a great burglar deterrent as thieves are always on the hunt for an easy opportunity. With today's modern electrical systems, you can even connect the motion activators with other lights throughout your home to appear like someone's home.
2. Keep the landscape trimmed.
If you're going away for a couple weeks, hire a landscape company or family friend to take care of your lawn. A lawn that looks overly cared for and in pristine condition gives the appearance the home is lived in and looked after.
3. Call in a friend or neighbor.
Even if you don't have any pets or indoor plants, it still is a great idea to ask a friend or neighbor to check in on your house while you're away. This helps prevent small situations from being massive headaches. For example, an untimely plumbing leak might cause what could have been a five-minute fix to become a massive structural issue if left unnoticed for over a week.
4. Curtains closed and opened.
In our earlier blog, we discussed the importance of installing shades before you leave for vacation, but we want to underscore how it can be beneficial in some situations to have them closed, while for others it's best to keep them open. Having all of your curtains closed, especially if you normally open them during the day, can be an indicator your home is unoccupied. Worse, if criminals do go traipsing about your home, then closed curtains also prevent people who might otherwise help, such as neighbors and police, from seeing what's happening inside your home. It's for this reason we highly recommend our motorized shade options. With these special shades, you can control their opening and closing via your phone so you can give the appearance someone's home.
For more information about the benefits of shades, download our free Shades vs. Blinds guide, or contact us at 702-260-6110 today for a free in-home estimate.