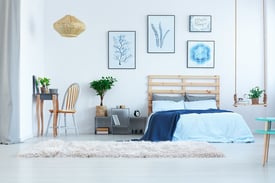 You could look at the calendar and glumly conclude that 2017 is half over. But if you're an optimist, you would say you still have plenty of time to try your hand at six top bedroom design trends of 2017. They're so adaptable to any decorating style they might overstay their welcome and flow right into 2018.
1. Welcome the return of wallpaper
The key to wallpaper has always been finding a pattern with staying power so you don't have to go through the hassle of removing it. Wallpaper is so durable and easy to clean the hunt is worth it. An influx of calm, soothing patterns – ideal for bedrooms and master bedrooms in particular – has fortified its comeback.
2. Let a custom headboard take center stage.
Making one is easier than you might think, requiring a heavy piece of plywood, cotton batting, fabric, trim and a staple gun. It can become a dazzling focal point – more visually appealing than the rote headboards that accompany many bedroom sets. If you're feeling ambitious, you can make a simple duvet and pillow shams with coordinating fabrics.
3. Bring back the bling.
Most people (and especially women) favor gold or silver, rarely mixing the two. Take your pick, but between a calming wallpaper pattern and an alluring, custom headboard, gold or silver accent pieces can provide a classy finishing touch. Think of adding gold or silver picture frames, mirrors and lamp bases.
4. Expand your bedroom's functionality.
For every person who says you should "separate work space from sleeping space," there are realists. They know there's something about placing an elegant table for a computer in a bedroom that suddenly causes it to resemble an upscale hotel suite. Plus, bedrooms make peaceful getaways when the home office or the kitchen desk becomes cramped or noisy.
5. Add a serene palette.
The overriding theme of 2017 should be clear: bedrooms should be retreats – rooms worth spending time in – and colors play a significant role in creating an overall mood. The year's winning color scheme: light purple, cream and soft green.
6. Finish the look with interior window shades.
Updating your bedroom without updating your interior shades would neglect a vital finishing touch. Like many homeowners, you might be drawn to duo shades, which function as two-in-one shades, with sheer or sun-control fabric on one side and a blackout fabric on the other. Duo shades can "go dark" when you want to sleep and "lighten up" when you want or need outdoor light.
Install interior shades from Polar Shades
Polar Shades is the leading manufacturer of high-quality interior window shades and has been for over 20 years. Schedule a free in-home consultation with an interior window shade consultant from Polar Shades. Polar Shades can refresh the look of your bedroom – for the remainder of 2017 and beyond. Call 702-260-6110 to get started today.