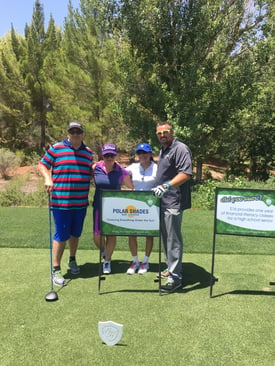 There are companies that claim to be committed to improving the lives of children and young adults.
Then there are companies that step up and take a swing at actually making tangible differences.
Polar Shades – the country's premier manufacturer of quality indoor and outdoor window shades – falls into the latter category as gracefully as a chip shot played on the 18th hole.
Representatives from Polar Shades were proud participants in the Andson Driving Education Benefit Golf Tournament. Andson is a nonprofit organization whose mission is to better the lives of at-risk, low-income and underserved students.
Technically speaking, no one scored a hole in one on the golf course. But every participant could rightly be called an "ace" for succeeding at advancing Andson's mission.
Tournament takes an approach shot
The golf tournament – "driving education" – took place May 12th at the Southern Highlands Golf Club in Las Vegas. While it was designed to provide golfers with a pleasant and leisurely day – from 7 a.m. to 8 p.m. – the spirit of competition hung in the air right from the start.
On-course contests saw golfers vying for first-place (or even second- and third-place showings) in hole-in-one, "closest to the pin" and "longest drive" categories. The first-place team, meanwhile, was reported to have converged on the "19th hole" (the recreation center where players gather to tally their scores, settle bets and cool off with an icy beverage).
Most importantly, golfers basked in the knowledge that with every swing they took under the hot Las Vegas sun, they were leading by example.
Andson takes aim at education
Andson is dedicated to taking the long view – and not only on the golf course. Its purposeful mission is to:
"Educate, inform and inspire youth and young adults by delivering innovative programs in academics, financial literacy and mentoring. We believe delivering both financial and educational support to students can aid not only in their academic careers, but also in their personal development. Our programs educate and empower students to achieve sound and promising futures."
By equipping students with the necessary life skills to close the education gap and avoid the financial crises that often plague the adult lives of at-risk, disadvantaged youth, Andson focuses on two essential objectives:
Academic improvement, achieved by comprehensive after-school tutoring support
Financial literacy improvement, achieved through insightful financial education
Golfers from Polar Shades enjoyed the benefit of knowing their time and energy would aid young people close to home: Andson programs serve youth in Boulder City, Henderson and Las Vegas, including some of the most vulnerable young people in Southern Nevada.
The Andson golf tournament demonstrated any company can posture, issue a public statement or otherwise take a position on bettering the lives of children and young adults. Polar Shades leads by example and continues to strive day in and day out in helping the community of the greater Las Vegas area.
---